Steven Spurrier: Father of the Judgement of Paris Wine Competition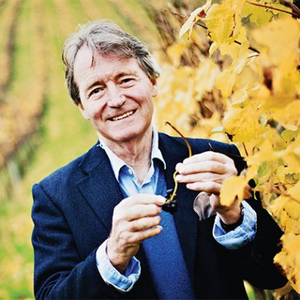 David Furer's Interview with a Wine Legend
Since 1964 Steven Spurrier's work on behalf of his favorite beverage has been a somewhat circuitous one, having led him for the past few years in developing his Bride Valley vineyard & winery at his Dorset England home. His international stature was assured in 1976 when self-employed as a Paris wine merchant, he organized and led the 'Judgement of Paris' (JoP), a blind tasting for the French trade and media pairing some of the best Bordeaux and Burgundy along side California Cabernet Sauvignons and Chardonnays. The news that some from California triumphed over some from France led TIME magazine to run it as a cover story, assuring Spurrier's place in wine history.
Steven also authored several wine books, founded France's first private wine school and later Christie's Wine Course. Since 1993 Spurrier was a columnist, since 1998 additionally consulting editor to Decanter magazine for which he chaired its World Wine Awards.

San Francisco Wine School blog author, David Furer, got to know Steven during his tenure on the England-based Circle of Wine Writers Executive Committee.  They also had many tastings together for Decanter magazine, which led Steven to ask David to act as the sommelier for the 30th anniversary JoP held at London's Berry Bros. & Rudd;  David had a chance to catch up with with Steven in late 2015 for this insightful interview.


How is it you and wine found one another?
My inspiration was at age 13 with my family in 1954. My grandfather told the butler I was old enough to have a glass of Port. I thought it wonderful and asked my grandfather what it was; he said, "Cockburn's '08 my boy" and that completely knocked me off my socks. Wine had a name, a date, it had a region so I began reading about it from that age. I read the geographic of it before I began drinking much of it. Incidentally I went to a Cockburn's vintage tasting in 2012 from vintages 1885-1977 with the 1908 being the best on the table…so my grandfather was right! 

And you, too, apparently. The first line of your Wikipedia entry states that he "has been described as a champion of French wine." How do you reconcile that description with what might have been your assumed intention to conduct the JoP, and for the outcome of it?
Before this occurred it wasn't as though that France was clamoring for California wines and that France's honor necessitated defending.  Wikipedia can take things from wherever it wants. I was a champion of
French wine
because I worked in Paris 18-20 years involved with the old and established wines along with the newer ones, even writing the first book on French country wines, the Vins de Pays. I put on the Judgement of Paris because we were doing lots of things like that at the Academie du Vin. I was the first person in France to import proper vintage Port, Sherries, Madeiras at a time the French weren't interested in any wines except their own. Promoting non-
French wines
was one of the things we did there. My partner there, Patricia, went to California and wanted put on a tasting of them, but it was my idea to put on one with the equivalent wines from France. I thought that of the top-of-the-line tasters we'd asked only Aubert du Villaine, married to a woman from San Francisco, would've ever tasted California wines as all that most French at that time knew of California was that it was north of Mexico. The only way to get them to give an informed judgement was by having a blind tasting; and the rest is history. I was the last person expecting them to win.

Now with 40 years hindsight, how has 1976's JoP effected today's broad understanding of wine?
In hindsight it was a win-win situation all around. I got bad marks in France for showing chinks in their armor, but it's no coincidence that the first vintage of Opus One was 1979. I wouldn't say that the JoP caused Mondavi and Baron Philippe to get together but it really was instrumental for making them farm their own brand. It put California wines on the map, particularly Montelena and Stag's Leap Wine Cellars. Very quickly the intelligent, younger French went to California to find out what was going on; they saw tons of money, a commitment to making the best wine possible when France was good at taking it all for granted. When we hosted the JoP 30 years on in London and Napa, we did the tasting open with the same wines but from the 2000 vintage. That tasting saw California take all five of the top places whereas in 1976 it took only three of the top slots. This denied the French opinion that we were tasting their wines too young and that they'd only show best if we allowed them to age. It showed that the French were resting on their laurels. It created a template through which an unknown wine could compare itself as long as the people tasting them are viable to give them recognition. 

In your opinion, since then, in which ways have the French surpassed their past, and also not reached their best?
The French were at their best in the 1920s, the late 1940s when there was a lot of money to invest unlike the 1950s and 1960s when there wasn't a lot of money around. France is making better wine now than it ever has done, but you could say the same for Spain, Italy, Germany—the whole lot. The quality of wine around the world is better than it was even 25 years ago. 

Which are some of the world's most underestimated wine-producing areas?
Argentina is coming up very strong with Chile some time, too. South Africa is being re-recognized following having some time 'in the sun' right after the end of apartheid only to be eclipsed by South America. Uruguay is showing a lot of promise, and I think Portugal is absolutely fascinating with its indigenous varietals. Tasmania, of course, with its cool climate and Australia has completely changed its outlook on wines with the more quality-minded guys making amazing wines. Slovenia, Croatia…everyone is trying hard because you can no longer succeed if you're not trying hard.

Commerce or art--how ought the budding sommelier see his/her work?
He should want to first serve the client.
Jancis Robinson
recently wrote online that
sommeliers
have now reached the level of adulation that chefs did 15 years ago with some of them finding their younger colleagues becoming stars while forgetting that the role of a sommelier is to make the client happy. I think commerce first, art afterwards.

What are your most and least favorite experiences in encountering sommeliers at work?
I don't tend to have bad ones, because I know what I want to choose from a wine list. If I ask of something I don't know and want his advice, it's more like joining him in the conversation. A bad experience might come when a bottle of red wine is served too warm, which simply means either they or the restaurant aren't good at their job. I don't like my glass being topped up too often. A sommelier who comes to the table too often kind of annoys me; I think they should be discreet.

What might European and US sommeliers learn from one another?
They're in the same boat much like US and British wine writers; we're all learning from our colleagues as we create for the public. The French can find work in both countries with some Americans finding work here in Britain. It's a broad playing field, but as in any profession, there are 'top teams' because, they're very good at what they do.
Gerard Basset
gives out knowledge in such a caring and non-threatening way that it makes him a great teacher. I think a sommelier should impart his or her great knowledge in an open way, not impressing the client by knowing much more than the client does, because in many instances he doesn't. 

With a decades-long career selling bottles and communicating of wine, how does it feel to now be on the production side of it?
We had a table at the last Decanter Fine Wine Encounter at which, for the first time in my 51 years in the wine trade, I was on that side of the table. But it was great fun. The wine tasted quite well though there were some people who found it too dry, too light or too acidic, but at least one could appreciate that it wasn't to their tastes. We've come up with a wine that's come from our very chalky and cool climate vineyard, so we can't alter the style of wine we get. We just had the most ghastly, disappointing vintage from which we'd hoped to get 20,000 bottles of wine from which we got 6,000. From a producer's point of view it's not all 'beer & skittles' so to speak. 

With a relatively low production and high consumer demand at home, how is it you came to choose the US as Bride Valley's first export market outside Europe?
Our wine has gone off to several European countries. The Boisset family was extremely helpful since I produced a dossier on the project for Vinexpo in 2007. They picked it up immediately then sending their guys here three times with their helpfulness and research. As soon as I had it available to sell they agreed to bring it to the US.

The changing nature of wine communications--what's going right, what's going wrong?
I don't think there's too much going wrong. Wine magazines should take themselves seriously with the World of Fine Wine doing fantastic things. I don't read Wine Spectator, but I once thought it took itself far too seriously, and it wields far too much power. The power of certain critics is dangerous, but you can't avoid it and the declining influence of Robert Parker is a good thing. The wine-drinking public needs the awards, the critics, the competitions and all the information it can possibly get, but these sources need to be as independent as possible. When I'm asked by someone how to go about buying wine I say to find a wine merchant that you can trust. The greatest communicators about wines should be the merchants—that's what I did in Paris.

If wine didn't exist, your chosen career would've been... 
Art…I would've gone into the art business. I spend much more on art than I spend on wine but they're both my life's passions. Wine is a way of life but art would have been another way.



Steven Spurrier died at his home in Dorset, England March 9, 2021 at the age of 79.  Always a generous supporter of San Francisco Wine School, Steven contributed to many of our special events and we are deeply saddened by his loss. 


If you enjoyed this interview and are a fan of Steven Spurrier, we encourage you to experience this light hearted, personal conversation and toast his memory with some of his exceptional sparkling wines.  Rest in peace Steven.  
The world of wine will be forever grateful for your contributions and dearly miss your presence.