Insider Interviews with David Furer - Presenting Alejandro Fernandez

I first encountered the wines of Ribera del Duero in 1992 through Pesquera winery, then the only winery of the region with any recognition beyond that of the historic Vega Sicilia. Its founder, Alejandro Fernandez, is justifiably credited with having created the situation from which now exists an internationally renowned denomination, Ribera del Duero whereas before Pesquera's commercial existence there was none. Plenty has been written already of the man, the winery, the appellation for me to waste words detailing here, but worth noting is my first encounter with the man. At a late­ '90s edition of Vinexpo I attended a standing room-only panel presentation of Spain's finest wines, one which rightly included an example from Pesquera. Rather than be seated, the beret­-topped Fernandez was at the back of the room pulling corks and tasting his bottles despite there being a plethora of sommeliers on hand to do so. That inspired me to snap the man at work; though that photo's lost to me today here's one of the man still hard at work pouring and enjoying his wines with the world...and the interview.

Your transition to develop the winery that became Ribera del Duero's (RdD) second great one and the one that forged the path for the D.O. to occur, is already well­-written of. What more recent developments have you witnessed that altered RdD wines to become what they are today?

Everything has changed a lot since we started in DO Ribera del Duero. At first, we were just a few wineries and nowadays we're almost three hundred. I think that in all of those wineries, every winemaker makes the wine he wants to drink. For me, I love wines made like wines I used to drink when I was young: traditional, but more clean and elegant than before. Ribera del Duero is very special for a lot of people and I love this area, but the world doesn't end here.

The long, friendly rivalry existing between RdD and Rioja spurred both regions to increase their quality, though the greater acceptance of both regions has led to this no longer being an important point. Is RdD now content to draw comparisons of its finest wines with those of other countries? If so, what is the strength and what is the weakness of doing so?

There are a lot of wine lovers and each one prefers a different wine. I think that our wines are well­-sold because we make those traditional wines that a lot of people are searching for. If Ribera del Duero is one of the best or one of the worst DO is something that has to be valued by the customers. I think every expression is interesting and that's the reason to have been looking for fine wines out of Ribera del Duero.

You've been steadfast in your focus on Tempranillo as a single varietal wine even in the wake of RdD producers who later began blending other red grapes to their wines. With a diversity of micro­-terroirs to choose from in your chosen regions, why haven't you exploited the opportunity to work with other grapes to express this?

In my opinion, Tempranillo is the best variety to make fine wines: its good level of acidity and the medium­ tannin makes possible that the wines could be drinkable after two or forty years. That makes this variety one of the best varieties to make a lot of kind of wines. However, the harvest is very important to achieve wines that could be drinkable after a very long period of time.

Presuming there are RdD wines made from grapes other than 100% Tempranillo that you've enjoyed, which are those and why might you find them attractive­­ even if you choose not to go that direction?

There are some wineries in Ribera del Duero who blend different varieties and they got very interesting wines, but I'm not looking for that. I think the best expression of Spanish wines is in a wine made with 100% Tempranillo.

What are the best practices you've implemented in coping with the effects of climate change? What are those that haven't proven successful?

We cannot control the climate, we have to adapt to it. It's true that we have invested a lot of money in technology but we should invest more. However, we have faced two hottest years like 2003 and 2015 when we had to adapt to the grapes...but we've always had to do it. We cannot have 'dates of harvest' like some people thought 40 years ago—we have to pick the grapes when the grapes say 'now it's the best moment'. During the past 15 years we've started harvest in both the latest and the earliest moments. And during the two hottest years we've had the best quality of grapes as Tempranillo is very resistant to dry and hot vintages.

Will there ever be a white grape from which the D.O. may base a consistently good wine or must it necessarily only be recognized for its reds?

Some RdD winemakers have talked about this though we've not planned to make a white wine at Tinto Pesquera or at Condado de Haza yet. It's clear that our region is very important thanks to red wines, but we don't know if the future can change this. When we started with El Vínculo, in the DO La Mancha, we began with red wines but 8 years later we made the first harvest of a white variety: the Airén. Alejairén is very special because it's very strange to find white wines aged in oak in this country and the Airén is the most expanded white variety in La Mancha. When we started with the winery El Vínculo, we didn't think we were going to be rewarded not only due to our reds if not due to our white wine too. It's very difficult to predict the future.

Although Tempranillo has recently established itself to moderately good acclaim in the US's Texas and Oregon, little else is known of its being produced outside Spain. Why is it that Spain's most notable red variety isn't better utilized outside its borders?

It is clear that Spanish winemakers are getting fine wines with 100% Tempranillo because this variety is the result of our character, climate and geography. Maybe that is the reason to don't get a fine wine with Tempranillo abroad.

When you're not drinking your wines, what are others you enjoy?

I always enjoy the oldest wines; I love wines that have been aging a lot of time in bottle such as a Bordeaux I once tried that was 30 years old. In Dehesa la Granja, thanks to the cave we have there, we can release wines after 14 and 15 years. From each vintage, I was keeping some bottles to release those wines after a long time and the result is lovely for a lot of people.  When I give tasting those wines to our customers, everyone buy at least one bottle.

Thanks to Miguel A. Bocos for his assistance in this interview.
Learn more about Ribera del Duero's wine culture in our Intro to Spanish Wine Workshop.
Check out our full schedule of programs, workshops and public events. Private, customized experiences and corporate training is also available.
---
Also in Blog
Master Sommelier and founder of San Francisco Wine School David Glancy lives and breathes wine and has taught blind tasting for 20 years. He weighed in on just how accurate Apple TV's Drops of Gold Series really is. You may be surprised.
Roberto's lifetime of experience has captured the notice of many critics and fans alike. In 2006, the Italian Sommelier Association declared Roberto the "best Italian winemaker." In 2009, 'Wine & Spirits' magazine declared Roberto's winemaking project in Argentina the "best winery in the world". In 2013, 'Wine & Spirits' similarly declared their Malbec the "best Malbec in the world."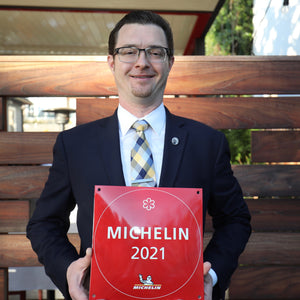 Paul Carayas is a Certified Sommelier and currently leading the wine Team at Chez TJ in Mountain View and a 2022 competitor in San Francisco Wine School's 2022 Somm Olympics, part of their annual Anniversary Celebration benefitting the Glancy Wine Education Foundation.