Insider Interviews by David Furer - Presenting Jean-Nicolas Méo and Jay Boberg
by David Furer

The latest entry into the expanding number of French - especially Burgundian - vignerons into Oregon is that of Jean-Nicolas Méo of Méo-Camuzet and music entrepreneur Jay Boberg with their Yamhill-Carlton AVA Nicolas-Jay vineyard & winery. Since becoming friends in 1988 the two have shared a love of wine and music, culminating in 2011 during Boberg's Willamette Valley foray, spurring him to ask Méo to broaden his 25-year focus on his family's holdings to encompass his first endeavor outside Burgundy. From this beginning, they've begun culling from their organic Bishop Creek Vineyard while purchasing fruit from a few established sites. The premier 2014 Nicolas-Jay Willamette Valley Pinot Noir was released on April 2nd, this interview conducted this past February with Méo taking a break while skiing the Alps, Boberg at his Santa Monica office.

How and when did you meet, then develop this project?

Boberg: My sister was attending Penn State in Philadelphia when I visited her. At dinner she introduced me to her friend, Jean-Nicolas. I already had a passion for wine spending as much time as possible researching it as I'd time to do. Our friendship has grown stronger to this day, something that doesn't always happen when friends go into business together.

Méo: (chuckling) That is very true. I came regularly to the US, and Jay to Burgundy from time to time, so we saw each other regularly. Jay became involved in an Oregon project rescuing a winery calling me to be a consultant. It didn't work out, Jay and I both stepped away from the project, so we decided to do our own more modest but more interesting project.

So Jay crossed over into wine; did you at all cross over into music?

Méo: No, no; I only shyly attempt to play piano for 15 years. I'm not ready to play in a band, but if Jay wanted to play guitar that could be a neat, long-term objective.

Boberg: But sometimes you take over the car while we're driving from vineyard to vineyard with your iPod causing us to listen to sort of '60s and '70s French music; you weren't shy about that.

Méo: It's true that I have a big American music tycoon on my side and he's sometimes a little 'over' French music.

So, Jay, then you've had your fill of Johnny Hallyday and Serge Gainsbourg?

Boberg: No, I was kidding, I love that music.

How did you structure your vineyard development?

Méo: We discovered our vineyards in a nice way. When we established our enterprise buying a vineyard wasn't in our plans because we thought we wouldn't have enough capital. When we started looking we realized that land wasn't so expensive but what we came across was big vineyards of up to 90 acres-much bigger than we could deal with. Some colleagues who'd started earlier than us showed us a wine which we agreed that what we were tasting, Bishop Creek Vineyard, was the best we'd been tasting lately—and it turned out to be for sale. The relatively modest vineyard of 12 acres was manageable for us, it hadn't irrigation, it had tight spacing for Oregon and a good aspect, was old by Oregon standards. But most importantly we liked the wine.

Boberg: I think that it's very telling about our goals that our search in finding the best wine is what brought us to the vineyard. We sourced and visited so many vineyards and wineries from the 2012 vintage, but it was the taste we got from this vineyard, we though it had a lot of character, it tasted different than others; that made it true to our mission. We're trying to make a wine that represents the area.

Will you continue with own-rooted plantings?

Méo: Being isolated, this vineyard isn't showing any sign of phylloxera but we're very cautious of it. The part that was planted in the 1990s is on American rootstock. There's a good chunk still that is own-rooted that are in their 25-30 yr. prime of age. We hope to retain this as long as possible.

Boberg: We're looking at other vineyards, preferably ones that have attributes that Bishop Creek has. If we don't find one we've considered planting on new sites. This isn't imminent, but in 5-10 years there will be at least one other vineyard that we'll own.

What vinification standards do you apply?

Méo: The conditions there are different from Burgundy, so it's basically a style that I describe combining concentration, finesse, and charm which will also apply to Oregon. But of course the results are very different. I do a few days' cold soak before fermentation starts, we try to do a progressive and low extraction, doing punchdowns monitoring it so we know when to vat the wines and to press. What differs are the natural conditions between the areas. The past two Oregon vintages have been warm, and therefore the wines are relatively sweet, high in alcohol, and low in acidity - something which is different than Burgundy so the wines treatment during fermentation will be different. In Oregon big bins are used for harvest whereas in Burgundy I prefer small bins. We've found a solution in Oregon in using smaller bins but still being practical. Oregon grape growers don't like small bins like we have in Burgundy, but we've found a way to use smaller bins in Oregon. We have wines from both 2014 and 2015 that are evolving more rapidly during the first stages most probably the acidity is lower in Oregon. Therefore MLF happen much sooner than in Burgundy, so for that elevage in barrel has to adapt to these different circumstances.

What production levels do you have now and intend to grow to?

Méo: We have in 2014 1620 cases, and project to grow to 5000 cases within five years.

Boberg: If we're fortunate enough the growth to 5000 cases will be within a 5-7yr. ramp-up period. Our hope is that a portion of that will be Chardonnay, and we've also 2.5 acres of old Pinot Gris that we'd like to begin t-budding over to Chardonnay. If all works well we may be making Chardonnay in 2017.

You've made considerable money elsewhere than wine, so how do you see stepping into this new business making more than fun but also making it profitable?

Boberg: Firstly the interest in wine isn't new and neither is the desire to be in the wine business. I once owned a Calistoga vineyard for five years where I only sold the grapes, and I've been interested in different wine businesses. But it's very hard to find opportunities in the wine business that are able to stand on their own two feet. This isn't a vanity project where I'm beginning with $2 million and expect to end up with $1 million as you rightly called out earlier. I strategized wanting to do this with Jean-Nicolas long ago in a sustainable way, and during the process he's mentioned to me several times that this isn't the music business but a very slow one, a long-term one for which our children will really make out rather than us. We have goals and a solid opportunity to be profitable shortly. In five years we not only want to be profitable on a short-term basis but also able to recapture all the investment we made in the first 3-4 years when we'd nothing to sell. My avocation has become my vocation both with music and with wine. The goal isn't to make money, but to do something I'm passionate about.

Méo: What I'm finding is that vanity projects lately in Burgundy, an unlikely location, that you lose interest when you approach it in that way because you end up pouring money without having a clear goal in mind and the focus of the consumer really appreciate what you're doing. There's no gut motivation in having to succeed. You cannot approach wine from a strictly vanity aspect.

How will your wines be sold?

Boberg: We're selling in California, Oregon, Washington, Illinois, Massachusetts, New Jersey, New York, a bit maybe soon in Japan and France. Those channels, along with some DtC via the website, will allow us to work with states that have supported us without running out too soon. If we're able to have decent sales then perhaps we'll expand from those states.
---
Also in Blog
On Saturday, November 11, 2023 from 3:30-8pm, San Francisco Wine School invites the public to join their 12th Anniversary Celebration and Scholarship Auction featuring their signature Somm Olympics, a Global Wine Tasting Bazaar with a plentitude of international and upscale fare, plus a Silent Auction full of unique wine items and experiences, all benefiting the Glancy Wine Education Foundation.  Learn more about the event...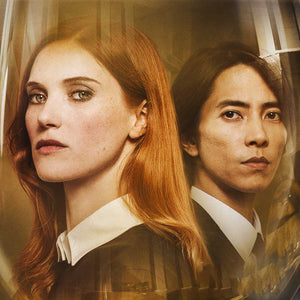 Master Sommelier and founder of San Francisco Wine School David Glancy lives and breathes wine and has taught blind tasting for 20 years. He weighed in on just how accurate Apple TV's Drops of Gold Series really is. You may be surprised.
Roberto's lifetime of experience has captured the notice of many critics and fans alike. In 2006, the Italian Sommelier Association declared Roberto the "best Italian winemaker." In 2009, 'Wine & Spirits' magazine declared Roberto's winemaking project in Argentina the "best winery in the world". In 2013, 'Wine & Spirits' similarly declared their Malbec the "best Malbec in the world."