Manton Valley Approved as Tehama County's 1st AVA
Leland Stanford planted vineyards at Vina in Tehama County in the mid 1800's, but it wasn't until August 1, 2014 that the area was recognized as an official American viticultural area. The new AVA, Manton Valley, east of Redding and Mt. Lassen and overlapping Tehama and Shasta counties in northern California's eastern foothills, is 11,178 acres, 200 of which are currently planted to varieties including Cabernet Sauvignon, Merlot, Syrah, Petite Sirah, Sauvignon Blanc, and Chardonnay. The soil is shallow, nutrient poor, and volcanic in origin, giving a particular minerality that could set these wines apart from others in the state. This soil also offers good drainage and controls plant vigor and crop yield.
Manton Valley AVA lies within an east-west valley and is bordered by the north and south forks of Battle Creek, a major tributary to the Sacramento River. While the area is hot in summer, cool breezes cascade off Mt. Lassen, giving respite to the vines in the evening. It is ranked as a moderately warm Region III, while both Chico to the south and Redding to the west are Region V. Vineyards are planted at altitudes of 2,000 to 3.500 feet, similar to those in the Sierra Foothills to the south. High altitude allows for a slower, more even-keeled ripening season. The combination of altitude and cool breezes delays the harvest until late September or early October, and it often continues well into December.
Eleven commercial vineyards and six wineries exist thus far. A mini wine trail along Forward Road makes it easy to sample multiple local wines. Alger Vineyards, Cedar Crest Vineyards, Indian Peak Vineyards, Shasta Daisy Vineyards, and Mount Tehama Vineyards all have tasting rooms open on weekends.  Albireo Winery is on Wilson Hill Road and is open by appointment only.
Mark Livingston of Cedar Crest Vineyards proposed the AVA along with other local vineyard and winery owners. The final AVA ruling is effective on September 2, 2014.

Feel free to contact Mark for more information or to set up a visit to the area: mark@cedarcrestvineyards.com

Do you think AVA status will help this remote area gain recognition for its wines?

What would you do to stand out in the crowded marketplace as a young wine region?
Learn more about California wines in our
California Wine Programs
and
Workshops
.

Check out our full schedule of programs, workshops and public events. Private, customized experiences and corporate training is also available.
---
Also in Blog
Master Sommelier and founder of San Francisco Wine School David Glancy lives and breathes wine and has taught blind tasting for 20 years. He weighed in on just how accurate Apple TV's Drops of Gold Series really is. You may be surprised.
Roberto's lifetime of experience has captured the notice of many critics and fans alike. In 2006, the Italian Sommelier Association declared Roberto the "best Italian winemaker." In 2009, 'Wine & Spirits' magazine declared Roberto's winemaking project in Argentina the "best winery in the world". In 2013, 'Wine & Spirits' similarly declared their Malbec the "best Malbec in the world."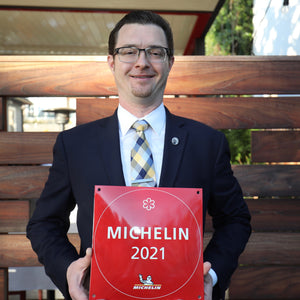 Paul Carayas is a Certified Sommelier and currently leading the wine Team at Chez TJ in Mountain View and a 2022 competitor in San Francisco Wine School's 2022 Somm Olympics, part of their annual Anniversary Celebration benefitting the Glancy Wine Education Foundation.