Insider Interviews by David Furer - Presenting Meridith May
In 2007 Meridith May had been serving as publisher/editor of California-based veteran Paterson's Beverage Journal with Anthony Dias Blue, its ongoing columnist, when the two bought the name 'Paterson's The Tasting Panel' and dropped 'Paterson's' within a year. At 20,000 circulation focusing solely upon the California market, they immediately went national climbing to what is now 100,000 copies found in all major markets with major emphases upon New York, Florida, Texas, and of course California. In light of the partnership taking on Sommelier Journal last October, I caught up with Ms. May at her Encino office.
Why did you purchase Sommelier Journal (SJ)?
Several of our writers at The Tasting Panel (TTP) talked to me about writing for SJ saying how much they loved writing for it with such ardor. When we heard the news of it going out of business I hadn't realized how much I wanted to be part of it. David Vogels and I had a deal within a week. While TTP is a branding and lifestyle magazine for those in the hospitality industry, The SOMM Journal (TSJ) will continue to be academic, educational, and entertaining. It will be centered around experts writing for experts.
With you as primary partner in TSJ and Andy secondary, how do you envisage working in balance?
I think our partnership is strong–I rely on him for his knowledge, guidance. David Gadd is managing editor for both, Lana Bortolot based in New York has shifted from TTP to become senior editor at TSJ with David Vogels consulting.
What's the plan for TSJ?  
Vogels had such a great team of writers, many of whom will continue to be part of this bi-monthly publication. Our premiere issue, June, will debut late May at Chicago's National Restaurant Association convention. Expect advertising to be more event-oriented than at SJ. Our inaugural somm camp ran April 22-25 with 25 working somms in Paso Robles led by Randy Caparoso. We're planning somm lunches with Ribera del Duero starting in Miami, category reports on not only wines but artisanal spirits, teas, and reports with chefs.
What other means will you use to establish continuity with SJ's loyal readership?
Distribution will go through the SJ mailing list, a PR firm has been getting the word out with subscription requests already rolling in, and trade subscriptions will be free for the first 2 years though qualified by the recipient being in an educational program or working in hospitality. Multiple issues will need to be purchased and won't be sent out gratis to organizations or companies. We've no plans for newsstand sales though we're now in 40 stores with TTP though printing costs are prohibitively expensive even to get into wine shops. The website is being refurbished, and will include videos. It's going to be edgy and academic, keeping the focus which SJ was known for. We want the future somms as much as we want the working somms."
Check out our full schedule of programs, workshops and public events. Private, customized experiences and corporate training is also available.
---
Also in Blog
Master Sommelier and founder of San Francisco Wine School David Glancy lives and breathes wine and has taught blind tasting for 20 years. He weighed in on just how accurate Apple TV's Drops of Gold Series really is. You may be surprised.
Roberto's lifetime of experience has captured the notice of many critics and fans alike. In 2006, the Italian Sommelier Association declared Roberto the "best Italian winemaker." In 2009, 'Wine & Spirits' magazine declared Roberto's winemaking project in Argentina the "best winery in the world". In 2013, 'Wine & Spirits' similarly declared their Malbec the "best Malbec in the world."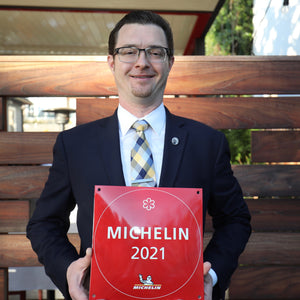 Paul Carayas is a Certified Sommelier and currently leading the wine Team at Chez TJ in Mountain View and a 2022 competitor in San Francisco Wine School's 2022 Somm Olympics, part of their annual Anniversary Celebration benefitting the Glancy Wine Education Foundation.