Three Amazing Days for California Wine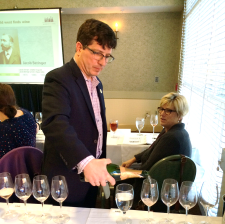 The Inaugural California Wine Appellation Specialist® 3-Day in Santa Rosa
Which California AVA is the star in Mendocino for Pinot Noir and sparkling wine? Which Napa AVA has the highest daytime temperatures and why? What are two unique features of Fair Play AVA? Which AVAs are known for Zinfandel? What are the primary grapes of Carmel Valley? Why is Enda Valley's climate different from Paso Robles?

These are a small sampling of the hundreds of learning objectives covered in the California Wine Appellation Specialist® program. In three amazing days, after going through details of every California AVA and tasting and analyzing 65 wines, students were well on their way to becoming the most educated wine professionals when it comes to California appellations, grape varietals, geography, and climate.
24 total hours of instruction and tasting guidance was from 3 Master Sommeliers: Brian Cronin, Catherine Fallis and David Glancy, plus the president of NorCal Wine, Fred Swan. Special guests Nick Frey, the former president of Sonoma County Winegrowers, and Dr. Liz Thach, MW, Professor at Wine Business Institute, Sonoma State University, were also in attendance to lend support and learn more about the program. Nick at one point actually came up to the head of the class and helped students understand the nuances of Sonoma's AVA boundaries. Thanks for your help, Nick!
Representatives from Jackson Family Wines, E. & J. Gallo Winery, Napa Valley Vintners, Boisset Family Estates, Puccini Group, and Conn Creek Winery were in attendance, as well as many other industry folks from all sides of the biz, including import/export, restaurant management, wine retail and production, and even wine blogging.
 While not a formal blind tasting, the school hid the labels during the program to enhance learning and analysis of the wines. This helped students pinpoint effects of climate on grape varietals, as well as strengthen their blind tasting abilities using deductive reasoning.
The next CWAS® 3-Day credential program will be held in San Francisco on April 26-28. Sign up to get an email alert when enrollment is open–spaces will fill up quickly.
What are your favorite ways to stay on top of the changing AVA landscape in California? What are your favorite new California wine producers? Which AVAs are up and coming and why?  Where do you think California wine is heading in terms of production and consumption?
Become more of a master in wine through our CWAS® programs.
Check out our full schedule of programs, workshops and public events. Private, customized experiences and corporate training is also available.