Join Us and Get to Know the Grape Xinomavro and the Wines of the Naoussa Region of Greece. Register Today!
Xinomavro (Ksee no' ma vro) is the signature varietal of the Naoussa region of Greece. An indigenous Greek varietal known for it's distinctive flavors and aromas and long aging potential, Xinomavro is one of the most significant red varietals of Northern Greece and particularly Naoussa.

Join us for this rare opportunity to taste and learn from the winemakers themselves as they visit California for a market tour. David Glancy, MS, will present a panel discussion of the wines followed by a walk around tasting. You'll enjoy a selection of cheeses and charcuterie expertly prepared by Chef Matthew Dolan while you savor the selection of 17 stunning Xinomavro wines. 
Wineries presented in the tasting include:
Karydas Estate Kelesidis Estate
Kokkinos Winery
Thimiopoulos Vineyard
WHEN
Xinomavro Panel Tasting with David Glancy, MS
Wednesday, March 25th, 2015, 11:30am - 12:30pm 
Walk Around Tasting, 12:30pm - 3:00pm  
WHERE 
25 Lusk Street San Francisco, CA 94107
REGISTER TODAY! CLICK HERE!
This event is open to qualified wine industry trade and press only; business cards and corresponding credentials will be required to enter. We reserve the right to deny admission.

About David Glancy, CEO San Francisco Wine School 
David Glancy is one of only twelve people in the world to hold both the revered Master Sommelier diploma and a Certified Wine Educator credential. More importantly, Glancy is a visionary for wine education.
When one didn't exist, Glancy created a Certified Sommelier Program at the Professional Culinary Institute, successfully coaching more than 400 students to pass the Court's Certified Sommelier exam. Glancy's program remains the only Certified Sommelier program officially approved by the Court of Master Sommeliers.
A certified French Wine Scholar and Certified Specialist of Spirits, Glancy has earned the credential for every program he teaches, and more. He taught wine and business management at Le Cordon Bleu's California Culinary Academy in San Francisco, and served on the editorial board of Sommelier Journal. He currently sits on the board of directors for the Society of Wine Educators. David Glancy has been in the industry for over 20 years, working throughout the U.S. and in Asia and traveling to many of the world's wine regions. He founded San Francisco Wine School in 2011.
About Chef Matthew Dolan, 25 Lusk
Chef Matthew Dolan has been working since 14 years old, starting as a dishwasher and fry cook at a casual restaurant in Connecticut, and he's never looked back. Officially schooling at the Culinary Institute of America and schooling hard knocks-style with "salty old European chefs," Dolan took his first plunge into the chef world at Café des Artistes in New York. He then went on to work with Emeril Lagasse just as the now-famous New Orleans chef was finding his stride, an experience that helped further refine Dolan's technique.


Dolan has traveled extensively, having staged in France and worked in kitchens from Nantucket to Helsinki, Finland, where he said he developed a profound appreciation for seasonality and freshness. But it was in San Francisco that he made his biggest mark to date, first as executive chef at Garibaldi's and then in 2010 opening Twenty Five Luskwith former culinary school pal (and now general manager) Chad Bourdon. It's at that restaurant, which was three years in the making, that Dolan continues to develop what he calls "approachable fine dining."
---
Also in Blog
Master Sommelier and founder of San Francisco Wine School David Glancy lives and breathes wine and has taught blind tasting for 20 years. He weighed in on just how accurate Apple TV's Drops of Gold Series really is. You may be surprised.
Roberto's lifetime of experience has captured the notice of many critics and fans alike. In 2006, the Italian Sommelier Association declared Roberto the "best Italian winemaker." In 2009, 'Wine & Spirits' magazine declared Roberto's winemaking project in Argentina the "best winery in the world". In 2013, 'Wine & Spirits' similarly declared their Malbec the "best Malbec in the world."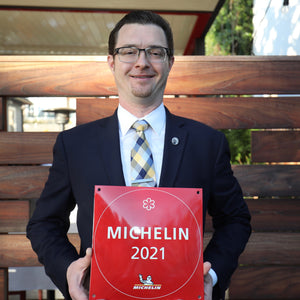 Paul Carayas is a Certified Sommelier and currently leading the wine Team at Chez TJ in Mountain View and a 2022 competitor in San Francisco Wine School's 2022 Somm Olympics, part of their annual Anniversary Celebration benefitting the Glancy Wine Education Foundation.