Insider Interviews by David Furer - Presenting Charles Banks
Long a wine consumer and collector while working for others in the capital management sector, the once ambitious amateur Charles Banks entered the wine industry in 2000 with the purchase of a former Santa Barbara County cattle ranch, planting vines on the property, and with his partnered acquisition of Screaming Eagle in 2006 signaling his no longer working for others. Following 14 years residing in Sta. Barbara, family matters back home in Georgia gave Charles and Ali Banks cause return to their Atlanta roots. "We get the best of both worlds now, and I still get to go to California twice a month.

You first came to be known for winery ownership with Screaming Eagle and other California properties, then chose to acquire wineries in South Africa and New Zealand. Why this shift into the southern hemisphere? 

It wasn't a sudden decision. My original plan was not to leave either of my first two California properties of Screaming Eagle and Jonata but my partner didn't want to do other things and didn't want to partner with any more people. I just went on with a plan already in place, then went forward without those original two wineries.

How do you determine which winery to purchase and develop?

The process is s a series of filters; each winery we take on allows to apply another filter. We're not just looking to make acquisitions and pile things onto our platform. First, it's the people, the right people with the right vision and right dreams. We took on Qupé which had the wrong kind of investors, supported Bob Lindquist's  visions and supported his cleaning up mistakes which allowed him to do what he does best--making wine. We're not just running around buying things; we're in the business of helping talented people achieve their dreams.

What intrigues you about owning a winery?

The ownership of a winery isn't particularly interesting to me, rather it's helping people via the interesting vehicle of wine. I love the idea of having gone to South Africa a few years ago when the reputation of its wines weren't good. It had an identity crisis, so letting Mulderbosch cease being a 'copycat' by adding talented young winemaker Adam Mason helped it to establish its own identity. Nobody was really trying to find the country's voice, and I saw with Mulderbosch that we could make fine wines and distribute them at affordable prices. It starts with the people, then it's a vineyard and region that can make wines that are definitive for what they are.

In your capacity as Terroir Selections's top administrator, how do you exercise creativity?

The most important thing I do across all of our projects is being a loud voice to our winemakers so they follow theirs and the vineyards' vision. If I discover one of our winemakers isn't following their vision it's my job to keep them to it. Distributors are reactionary--and that's a good thing--but they shouldn't necessarily dictate what a winery produces. My wife is very involved with what we do, and we don't want people at Terroir Selections for which it's just a stop on the career train. We want to reach the consumer but we also like to be ahead of the curve. We pushed winemaker Mason for cleaner and brighter wines, showcasing the vineyard and the vintage, to not make a syrupy style of wine. Our winemakers meet frequently in creating a brain trust. When we bought Mayacamas we did vertical tasting back to 1964 we had many of our guys share over several hours their perspectives on each vintage. It was really fascinating. We want egos that are proud, but not those that are unwilling to evolve.

Terroir Selections's wineries have varying business models. What criteria do you use in determining the strategy for each?

It starts with the top: what's the vision for the wine? And how does it fit with today's market, and how might it fit for the market in another five years? When we bought Mayacamas I assumed it would go fairly slowly as the site-specific nature of these old vines don't give immediate direction. It was never my plan to make wines like were made at Screaming Eagle, We believe in what Bob Travers was doing. The curve caught up with us faster than I expected and I can't believe the support we've gotten with the wines now selling incredibly quickly. Over four years Mulderbosch has increased its rose production eight times with Adam also focused on making world-class Chenin blanc, showing the world that this is one of the most intriguing white wines on the market with the added value of being at a good price.

Upon acquiring California's historically notable Mayacamas Vineyards & Winery one of the shifts you made was in changing its Chardonnay vines. The Mount Veeder AVA is better known for its reds, but Mayacamas's Chardonnay were renowned especially for their unusual ability to age, a trait not often ascribed to Napa Valley's examples. Why the change?

Over the years Bob Travers had numerous contracts from around Mount Veeder. We've made even more contracts, and are replanting Mayacamas's Chardonnay vines. We've gotten rid of Pinot noir and Sauvignon blanc which some people like but I don't, and this is my call. I really want our team focused upon Cabernets sauvignon and franc, Merlot, and a significant portion of Chardonnay.

Along with your wife Ali you've established a charitable beneficiary outlet for your wine sales via Charitable. How did you construct this so as to create a balanced business model that benefitted both your business and the charitable recipients?

We started with the concept that we 'wanted to give back'. We didn't want to support museums, though we enjoy them, and we could've just wrote checks to charities. Wineries have a long history of being generous, but we wanted to introduce a slightly more modern business model. I credit my wife for basically coming up with our seeing an evolution of the American dream, of having the center of our ethos in giving back while having a successful business. We worked closely with our distribution and winemaking team, thankfully launched with Ruby Tuesday in putting six of our wines in their 800+ operations. This made a huge difference by allowing us to launch quickly & profitably, allowing us to give away over $400,000 in our first year. The inherent problem in having one giant customer created the impression of that wine being an 'only at Ruby Tuesday' kind of product. It also positioned us as a 'charity wine', but the production of those wines had nothing to do with the charity. We wanted to streamline the route to market so we eliminated the contracted importer, allowing us to import quality wine by excising one level. We've moved into more traditional retail distribution, continuing to grow with more restaurant exposure. We've now pushed beyond being a 'charity wine', and now the business has broader distribution with more people in the market telling our story.

Your Fine Wine Magazines group reaches many European countries, is published in English, but hasn't much presence in your US home. Aside from its overwhelmingly northern European staff, why is that? 

The number of US consumers who drink old Bordeaux and Burgundy is a much smaller slice of the pie here than it is there, so the demographics don't support having Fine Wine in the US. That may change, but I don't see that now.

You've been referred to as having the 'Midas Touch'. What's led to your flair for success?

It takes along time to be an overnight success, right? 'Midas Touch' is almost insulting, but we do work really hard. We're disciplined about our time and business model and understanding that you can make the best wine in the world, but if you can't sell it at a profit then your business isn't going to last long.

What's next for Terroir Selections?

There are things we're looking at in places where I believe we've holes in our portfolio. It'll take some time but we're looking at Spain, I love Washington state, Argentina is really intriguing from a wine perspective with its move to higher altitudes with great people, but the country has financial issues. I continue to look to South Africa where from a quality perspective I think we're in the 'second inning', perhaps the 'first inning' in New Zealand where the farming has a long way to develop--and that's what I find interesting. And we'll probably find a spirits play at some point.

Check out our full schedule of programs, workshops and public events. Private, customized experiences and corporate training is also available.
Learn more about California Wine in our California Wine Appellation Specialist CWAS® Programs.
---
Also in Blog
Master Sommelier and founder of San Francisco Wine School David Glancy lives and breathes wine and has taught blind tasting for 20 years. He weighed in on just how accurate Apple TV's Drops of Gold Series really is. You may be surprised.
Roberto's lifetime of experience has captured the notice of many critics and fans alike. In 2006, the Italian Sommelier Association declared Roberto the "best Italian winemaker." In 2009, 'Wine & Spirits' magazine declared Roberto's winemaking project in Argentina the "best winery in the world". In 2013, 'Wine & Spirits' similarly declared their Malbec the "best Malbec in the world."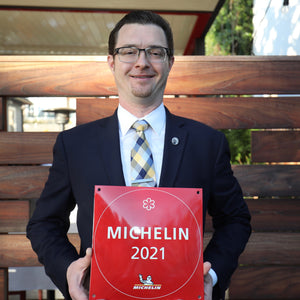 Paul Carayas is a Certified Sommelier and currently leading the wine Team at Chez TJ in Mountain View and a 2022 competitor in San Francisco Wine School's 2022 Somm Olympics, part of their annual Anniversary Celebration benefitting the Glancy Wine Education Foundation.