Searching for the Origins of Fermented Beverages
by David Glancy, MS, CSS, CWE, San Francisco Wine School


Archaeologists have never been so cool. Dr. Pat (Patrick McGovern) is the Scientific Director of the Biomolecular Archaeology Project for Cuisine, Fermented Beverages, and Health at the University of Pennsylvania Museum in Philadelphia. He is often referred to as the world's leading archeologist of fermented beverage, a career path my high school counselor failed to mention. When he's not in his office at the University of Pennsylvania he is often wandering the Caucasus from Russia to the Middle East, or exploring a tomb in Egypt or a new dig in some remote mountain in China. And between all of these places he has found the oldest scientifically verified fermented beverage and wine (for now). Who knows what else he might find as he keeps digging.

That beer is old! In 2004 Dr. Pat and his colleagues documented the oldest fermented beverage. They carbon dated and DNA tested scrapings from pottery shards. It turns out that China's thirst for beer is not new (#1 beer consuming nation). This beer dated back to 7,000 BC and was found at a Neolithic Chinese site called Jiahu. It is in southwestern Henan Province, China, on the east slopes of Fuliu Mountain. It was a grog made from rice, grapes and/or hawthorn fruit, and honey. Sam Calagione, brewer/owner of Dogfish Head Brewery in Delaware has made an interpretation of this ancient brew with Dr. Pat as a consultant. Nick Armstrong at Armstrong Brewing will present his version at our Origins of Wine Civilization event in South San Francisco on March 13.


The birthplace of wine made from grapes seems to be from the Caucasus. The Greater Caucasus stretch from Russia to the Georgian Republic to Armenia and Azerbaijan with stops in between. The Lesser Caucasus include Turkey and Iran but ancient winemaking wandered from there to the Mediterranean with noted production in modern day Iraq, Lebanon, Israel, Jordan and Egypt. Dr. Pat and his colleagues found the oldest wine, too. Once again, they were digging, scraping and lab testing. The wine residue they found dated back to 5,400 BC and was found at another Neolithic site (Hajji Firuz) in the northwestern Zagros Mountains of Iran. Six jars of the same shape, each with a volume of about 9 liters, were found lined up and set into the floor of a "kitchen" in a square mudbrick house.

Here is an overview of several of the wine producing countries of the Caucasus and Middle East.

An Armenian Wine Renaissance is under way. There are over 100 grape varieties being grown today in Ararat, Armavir and other regions of Armenia but much attention is being paid to an ancient variety, Areni Noir. Grape growing and winemaking were minimal after Armenia's independence from the former Soviet Union, but today small producers are breathing new life into the industry from Armenian nationals to flying winemakers like Paul Hobbs.

Georgia has over 500 grape varieties being grown today and the industry is growing. By far the most widely planted variety is Rkatsiteli, a white grape. There are also several variations of a white grape called Mtsvane. The leading red grape is Saperavi. Wine is made in Kakheti and many other regions of Georgia.

Lebanon has continued to make wine despite many years of warfare. Winemaking has been practiced in the Bekaa Valley for over 6,000 years. There are roughly 40 wineries and Chateau Musar is one of the most famous. Many international grape varieties are grown here along with the local Obaideh and Merwah.

Israel also has produced wine for thousands of years though most of their 100+ wineries started in the last few decades. The five official wine regions are Galilee-Golan, Shomron, Samson, Judean Hills and Negev. Production has shifted from white to red wine from many varieties including Bordeaux and Tuscan grapes.
Palestine is producing wine against all odds. There is minimal production despite thousands of years of history of growing grapes here. The few vineyards are in the area around Bethlehem and Hebron in Palestinian territories between Israel and Jordan. Baladi, Dabouki, Jandali and Hamdani grapes are the main focus.

Turkey largely focuses on indigenous grapes. Sultaniye, Öküzgözü and Bo€azkere grapes are the most widely grown but Shiraz is also widely planted. There are over 1 million acres of vineyards in this large country but a good deal produces fresh and dried fruit, not just wine. There are over 600 unique grape varieties here and the majority of the vineyards are in the region of Thrace, along the Sea of Marmara, near Greece and Bulgaria.

All of this and much, much more will be covered in the upcoming event at our school which is detailed below.

The Origins of Wine Civilization Event at San Francisco Wine School

Join noted academics and industry experts on Sunday, March 13th for a day of discovery and intrigue as you traverse the history of ancient wines and their evolution to modern expressions, tasting examples from the Caucasus and Eastern Mediterranean regions. This ground-breaking event will merge the academic and commercial aspects of wine, explore the ancient and modern styles from where wine originated, and its place in today's society.
4 seminars
14 panelists and speakers from around the world
wines from Armenia, Egypt, Georgia, Israel, Jordan, Lebanon, Palestine and Turkey
multi-cultural lunch with the winemakers
walk-around grand tasting
ancient brews happy hour
This is truly an amazing event that has never been conducted anywhere before. For information and registration go to http://sanfranciscowineschool.com/products/the-origins-of-wine-civilization and invite friends to our Facebook Event.

Seating for the seminars and lunch is limited so register soon for the Full Day Pass or join us for just the Grand Tasting.
---
Also in Blog
On Saturday, November 11, 2023 from 3:30-8pm, San Francisco Wine School invites the public to join their 12th Anniversary Celebration and Scholarship Auction featuring their signature Somm Olympics, a Global Wine Tasting Bazaar with a plentitude of international and upscale fare, plus a Silent Auction full of unique wine items and experiences, all benefiting the Glancy Wine Education Foundation.  Learn more about the event...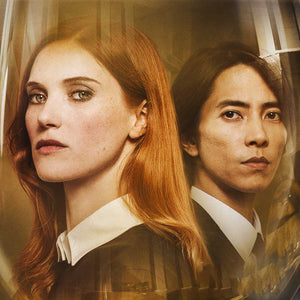 Master Sommelier and founder of San Francisco Wine School David Glancy lives and breathes wine and has taught blind tasting for 20 years. He weighed in on just how accurate Apple TV's Drops of Gold Series really is. You may be surprised.
Roberto's lifetime of experience has captured the notice of many critics and fans alike. In 2006, the Italian Sommelier Association declared Roberto the "best Italian winemaker." In 2009, 'Wine & Spirits' magazine declared Roberto's winemaking project in Argentina the "best winery in the world". In 2013, 'Wine & Spirits' similarly declared their Malbec the "best Malbec in the world."