An Interview with Karen MacNeil
The San Francisco Wine School and Women of the Vine & Spirits recently caught up with Karen MacNeil, author of the best -selling book The Wine Bible and creator of the free digital newsletter WineSpeed. Karen received the James Beard "Wine and Spirits Professional of the Year" Award in 2008 and has won nearly every other wine award in the English language.  On May 4, San Francisco Wine School will be hosting An Afternoon with Karen MacNeil where she'll teach her hugely popular class What Makes Great Wine Great?  Space is limited. Learn more.
Question: What does it take to be a successful woman in the wine business today?
KM: Drive, utmost professionalism, and a private commitment to oneself to be undeterred. When I started in the wine business in New York City in the 1970s, there were three women in professional positions in the wine industry—in a city of 7 million people. Today there are women in most aspects of the business, but they often make less than their male peers and the road to advancement is much rockier for women than it is for men. There's a lot of work to be done and as women, it's our work to do. I like to think that we need to create a "New Terroir of Wine Feminism."
 
Question: What is the best way for women to get ahead in their careers? 
KM: Clearly there is no single or simple way. I always believe that excellence ultimately wins. So give 120% willingly. That's what all leaders do regardless of gender. I also think women need to "look the part." Want to be the CEO? It's important to give that impression starting now. Women in wine often dress "socially" because we're in restaurants and bars a lot. But in subtle ways, that can hold you back. I know this isn't exactly fair. But I think it's a reality we should all consider.

Question: How important do you think formal wine education is to today's professional?  How has that changed in the last decade?
KM: Formal wine education is FANTASTIC. When I started in New York City—then a city of 7 million people—there were no wine schools. Later, Kevin Zraly started the Windows on the World Wine School. But Kevin and I and so many others of our generation are self-taught. We could have progressed faster if there had been formal wine education. 
Question: You do a lot of teaching and give a lot of seminars for corporations and businesses. What makes a good wine teacher?
KM: Passion and a knack for telling stories. Wine comes alive through story telling. It's also important to be able to make the complex, simple; and the simple, intriguing.


Question: The Wine Bible has sold a million copies, making it one of the best-selling wine books ever. How did you do it?
KM: It wasn't easy. The first edition took 8 years to write—8
unpaid
years. I wasn't sure anyone would buy it except for maybe my ten closest friends. But I think one of the things that has made it appealing is that it's written in a conversational American voice. When
The Wine Bible
came out, most other wine books were written by British authors, and they have a different style.  People tell me all the time that they love reading
The Wine Bible
and that it's fun and fascinating to read.
Question: Tell us about WineSpeed...
KM: Two years ago, I felt there was a dramatically growing need for solid, authoritative wine information delivered in a short, fast manner. I created the first WineSpeed as a free weekly newsletter which I'd send to friends every Friday. Today, it still comes to your inbox every Friday and it's still free. We have about 40,000 subscribers.

Question: I know it's impossible to pick just one favorite wine, but what is a favorite varietal & region and why?
KM: Favorite varietal—pinot noir. It's not only sublime, it's the ultimate "head trip." Favorite go-to wine: Champagne. I drink a glass every single night and have for 20 years.


Question: What is one of your favorite food & wine pairings?
KM: Years ago, chef Thomas Keller (of French Laundry fame) served me agnolotti stuffed with butternut squash and drizzled with brown butter, and a Puligny Montrachet Premier Cru. It was devastatingly good.
Question: Do you ever get tired of tasting wine or writing about it and teaching if?

Meet Karen in person Saturday, May 4th. Get your tickets for an Afternoon with Karen MacNeil at San Francisco Wine School before they're gone! 
---
Also in Blog
Master Sommelier and founder of San Francisco Wine School David Glancy lives and breathes wine and has taught blind tasting for 20 years. He weighed in on just how accurate Apple TV's Drops of Gold Series really is. You may be surprised.
Roberto's lifetime of experience has captured the notice of many critics and fans alike. In 2006, the Italian Sommelier Association declared Roberto the "best Italian winemaker." In 2009, 'Wine & Spirits' magazine declared Roberto's winemaking project in Argentina the "best winery in the world". In 2013, 'Wine & Spirits' similarly declared their Malbec the "best Malbec in the world."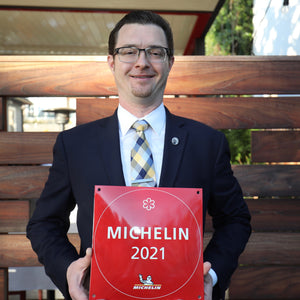 Paul Carayas is a Certified Sommelier and currently leading the wine Team at Chez TJ in Mountain View and a 2022 competitor in San Francisco Wine School's 2022 Somm Olympics, part of their annual Anniversary Celebration benefitting the Glancy Wine Education Foundation.