Exploring Wine Regions Of California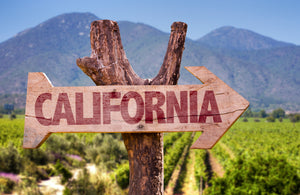 Did you know that the California wine region produces 81% of all US wine? If it were a country, California would be the fourth-largest wine-producer in the world, behind only France, Italy, and Spain. Clearly, California is at the forefront of new world wine. In this blog, we explore three important California appellations, including their climates, soils, grapes, and most prominent wineries.
Mendocino Wine Region
Mendocino County is the greenest California wine region and home to the most organic, biodynamic, and sustainable vineyards in the entire United States. 25% of its vineyard acres are certified organic, accounting for 33% of all certified-organic vineyard acres in the state. And its 690 Demeter-certified biodynamic acres exceed the next most-certified region by a factor of ten.
Mendocino County contains 12 AVAs (American viticultural areas), 570 vineyards, and nearly 100 wineries. The most prominent Mendocino County AVAs are Anderson Valley, Redwood Valley, and Potter Valley.
Anderson Valley is a cool-climate AVA with diversity provided by varying altitudes, distances from the ocean, and 20 different types of alluvial soils. The focus is Pinot Noir, which comprises 75% of the vineyard acres. The other specialities are world-class sparkling wines and delightful, aromatic white varietals, such as Pinot Gris, Gewürztraminer, and Riesling. Among Anderson Valley's renowned wineries are Roederer Estate, Navarro Vineyards, and Goldeneye Winery.
Redwood Valley is on the warmer, eastern side of Mendocino County, very well suited to Cabernet Sauvignon and Zinfandel. Red, volcanic soils and old vines make the Zinfandel especially noteworthy. Frey Vineyards, in the Redwood Valley AVA, was both the first organic and first biodynamic winery in the United States.
Potter Valley, also on the east side of Mendocino County is surprisingly cool. Consequently, it has come to focus on Chardonnay, with healthy amounts of Pinot Noir, Pinot Gris, Riesling, and Gewürtztraminer as well. It is also emerging as a zone for sparkling wines.
Napa Valley Wine Region
Napa Valley is the United States' most-recognized wine region. It lies in Napa County, within California's North Coast region and southeast of Mendocino County. The international fame of Napa Valley, driven particularly by the quality of its Cabernet Sauvignon, has led many people to think its wines are of a single style. But Napa Valley is actually diverse, with many, very distinctive growing areas and a lot more varieties—at least 33 more—to offer than just Cabernet Sauvignon.
The Napa Valley AVA actually consists of more than the iconic valley floor, but also two mountain ranges (the Mayacamas and Vaca), plus another valley to the east of the Vaca. Overall, the Napa Valley AVA includes 46,000 acres of grapevines, owned by 700+ growers. There are more than 450 physical wineries in the valley and well over 1,000 brands. Yet the AVA isn't very large geographically, about 1/8 the size of Bordeaux. And the main valley floor is much smaller, just 5 miles wide and 30 miles long. Despite its huge reputation, Napa Valley only produces 4% of California's wine grapes.
16 smaller AVAs are nested within the Napa Valley AVA. Each is distinguished by its own growing conditions. Among these AVAs are Carneros and St. Helena, the coolest and warmest of Napa's AVAs, and Spring Mountain District, which has some of the highest elevations.
Carneros (aka Los Carneros)
Carneros is the most versatile of Napa Valley AVAs. Cooled by ocean air from the west and San Pablo Bay to the south, it is excellent for sparkling wines, bright Chardonnay, and nuanced Pinot Noir. But the climate is still warm enough for impressive Syrah and even, in some vineyards, attractive Cabernet Sauvignon. Though the AVA is typified by steady breezes and clay soil, there is diversity among vineyards based on altitude, slope, soil variations, and degree of exposure to wind.
Driving to Napa Valley from the Bay Area, Carneros is the first of the nested AVAs you'll reach. Several acclaimed wineries, such as Etude, Saintsbury, and Domaine Carneros are just moments from the main road. Others, such as Artesa and Hudson Ranch are well-worth the extra ten minutes of scenic driving.
St. Helena
The St. Helena AVA is home to many of Napa Valley's most historic vineyards and wineries, some more than 150 years old. Its long tenure as a growing region, relatively flat, valley floor terrain, and warm, sunny climate have contributed to it having more acres under vine than any of the other nested AVAs. The primary grape varieties of the St. Helena AVA are Cabernet Sauvignon, Cabernet Franc, Merlot, Syrah, Zinfandel, and Sauvignon Blanc. Iconic estates of the AVA include Charles Krug Winery, Beringer, Salvestrin, and Spottswoode.
The AVA is, by a small margin, the warmest in Napa Valley during the day. That's because the Mayacamas and Vaca ranges bend toward each other there, narrowing the valley substantially and trapping heat between their rocky slopes. At night, the effect of the mountain is the opposite. Cold air slides down from their heights while the narrow pass the two ranges create turbocharges the cool, maritime wines.
Spring Mountain District
The Spring Mountain District AVA borders the St. Helena AVA, but is very different. As the name suggests, Spring Mountain District features the high altitudes, steep slopes and rocky soils of the Mayacamas Range. While most vineyards are above the fog line, ensuring sunny days, the altitude means the vineyards are significantly cooler during the afternoon than those on the valley floor. They are also shaded from late afternoon sun by the mountain itself.
The Spring Mountain District delivers wonderful, age-worthy Cabernet Sauvignon, the AVA's signature variety. But its climate also enables some of the Napa Valley's best Cabernet Franc, Merlot, Chardonnay, Viognier, and even what may be California's best Riesling. Top Spring Mountain District visits include Smith-Madrone, Stony Hill Vineyard, and Pride Mountain Vineyard, which straddles the Mayacamas ridge and spreads into Sonoma County.
Paso Robles Wine Region 
The Paso Robles AVA, and the city from which it took its name, lie on Highway 101, almost exactly midway between Los Angeles and San Francisco. San Luis Obispo County, where Paso Robles is located, is bordered by the Pacific Ocean, however, the AVA is substantially shielded from ocean air by the Santa Lucia mountains. The notable exceptions to that are growing areas near the Templeton Gap, a low spot in the hills that allows relatively cold air to pour through.

Long the largest AVA in California that had no smaller AVAs within it, Paso Robles established 11 nested AVAs simultaneously in 2014. To avoid confusing consumers who have come to love Paso Robles' ripe, softly textured red wines, the new AVAs are required to feature the name Paso Robles prominently along with their own. Especially significant among these AVAs are Adelaida District, Willow Creek District, and Geneseo District.
Adelaida District
The Adelaida District AVA is at the northwestern corner of the greater Paso Robles AVA. Altitude (900-2,200') and relative proximity to the ocean gives it a moderate climate, despite not being significantly influenced by the Templeton Gap. The soils are thin but largely calcareous. That, coupled with decent winter rainfall, allows some vineyards to thrive without irrigation.
The AVA's signature grapes are Rhone and Bordeaux varieties. However, you can also find unexpected delights, such as Pinot Noir and Nebbiolo. Some of the best-known wineries of the AVA are Justin Vineyards, Tablas Creek, Daou, and Halter Ranch.
Willow Creek District
The Willow Creek District AVA is just south of Adelaida District. It features similar altitudes, rainfall, and soils, but is directly affected by the Templeton Gap and the ocean that's just 11 miles away. That means lower daytime temperatures. Therefore, it is even more focused on Rhone varieties, but less on Cabernet Sauvignon.
Newer to wine country hospitality than some of the other AVAs, it doesn't have any very large wineries. But it's studded with fabulous boutique producers. Many of Paso Robles highest-scoring wines hail from Willow Creek District. Producers to watch include Saxum, Denner, and Linne Calodo.
Geneseo District
The Geneseo District AVA is on the east side of Paso Robles. Its altitudes are 740-1,300' and its soils are gravelly and granitic. Temperatures are significantly warmer during the day, but cool by up to 50° at night. Low rainfall makes irrigation a necessity.
Geneseo District excels with robust red varieties, such as Cabernet Sauvignon, Syrah, Petite Sirah and Zinfandel. Significant wineries with tasting rooms there include Eberle, founded by Gary Eberle who's often referred to as the godfather of Paso Robles wine, Viña Robles, and Tobin James.
The California wine region is also home to Lake County, the Sierra Foothills, Sonoma, Monterey, San Benito, Santa Barbara and The South Coast. To find out more about these regions, check out our wine video series with Master Sommelier David Glancy and our Intro to California Wine workshop.
For a closer look at each region, then our California Wine Appellation Specialist CWAS® certification program and it's 8 related workshops is available to help students master the California wine region. This program is the first and only in-depth professional credential dedicated to California wine. You can also find an online version of this CWAS® course. For more information, contact our team via help@sfwineschool.com.