Insider Interviews With David Furer - Michel Rolland
Consulting enologist Michel Rolland and I first met at 2001's Sommelier Summit at Simi Winery where he hosted a blending seminar. The group of 60 or so somms included a smattering of MSs, none of which were at my group of six budding somms (two of which went on to acquire their MSs). We were one of 10 groups competing for the 'best blend' prize as judged by Mssr. Rolland, a competition to make our best of five base wines from a single Napa Valley vintage--a Merlot, a Cabernet Franc, and examples of Cabernet Sauvignons from the valley floor, bench land, and hillside. My compatriots set about creating then arguing points amongst themselves. Once they'd expended themselves I said, "guys, we've only one palate to please here, and we're all aware of his biases. Let's play to that so we can win this." More Merlot, valley and benchland Cabernet Sauvigon were added along with the diminishing of Cabernet Franc and hillside Cabernet Sauvignon.

We won the custom engraved Riedel double decanter. With as little smarminess as I could muster I later shared privately with Rolland what had occurred at my table, suggesting that should he have an assistant's opening at his company we ought to talk.

Michel and I have since shared the stage at 2011's Hong Kong's Wine Future conference where only smiles, no barbs, were exchanged.

When beginning your career in Bordeaux, concerns in overcoming a lack sugar ripeness were common while now there is more pressure to avoid overripeness. How have you adapted your work given the shifts in climate? 




When I began people were definitely people weren't picking ripe enough, so we asked them to do so. Certain people think that there is 'too ripe', but now we just speak about what is normally ripe. I'm now on my 45th harvest and we never ask people to pick overripe though, because of global warming, we have faster ripening. General weather patterns have changed, vintages like '47, '61, and '82 are more common now. In the last 15 years we've had as many great vintages as we had in the entire 20th century. Even the weakest wines from this period are very good, but that's also because people are working better than before. Global warming is making Bordeaux a happy place.

Do you foresee a time when varieties foreign to Bordeaux, such as Tannat or Tempranillo, will be allowed for general production?

I turned 70 years of age this year, so I'll leave this question for others to answer. Who knows? Not me in any case. (laughing…) I can imagine walking in the Medoc with my clients and seeing their surprised faces were I to suggest they replant their Cabernet sauvignon to Tempranillo!

Which technological advancements do you foresee most influencing winemaking; perhaps one which may not yet be employed?

In recent years we've had so many improvements in both vineyard and cellar. The grapes are in much better shape than in previous years. In the cellar we now do optical sorting rather than by eyesight. We aren't expecting something new, but anything that comes will be done step by step. The airplane is less than a century old but 70 years later we had an Airbus. Some people want particular details from a wine's color, flavor, or aroma; we're in this evolution now. We can make distinctions between these points by technical means—but I'm not a great fan of this.

What are some notable sociocultural differences working in France versus Argentina?

I love France, love working in Napa Valley where people are very focused—it's the best place to work. When first coming to Argentina it was in the process of making many improvements in a short time, and it's the place I now most like to be as it's also the best place for my lifestyle. This is why I did some big projects there—because I was an Argentina lover. In addition, my curiosity has made me look into wine in 18 other countries.

Often overlooked in favor of the more developed Mendoza, how are viticultural developments in Salta?

It's mainly Cafayate and a very small area north of it. I first visited it 30 years ago; now it's so different with so many new projects. Argentina now has 250,000 hectares planted with Salta being only 4,000, very small by comparison to the entire of the country. It's growing but is geographically limited by the Andes and to surrounding land unsuitable for viticulture. So I don't think there's a great potential for volume as compared to Mendoza or Patagonia.

How might a sommelier best describe to his/her customer the differences between Malbec grown in different parts of Argentina?

It's impossible elsewhere in the world to have one grape planted so widely throughout such a big space of land, from Salta's power to Patagonia's refined tannins with Mendoza's finesse at its heart. Different characteristics will show throughout, and we can make good Malbec almost anywhere.

What are some of the most surprising discoveries you've encountered as a winemaker?

Certainly important has been making Malbec in these three distinct areas. And in India there's no infrastructure, no culture to make wine. India is now doing it decently, and there are plenty of challenges to surmount—a process which I enjoy.

You're no stranger to both praise and controversy for your work. What method do you employ in weathering these seemingly opposing elements?

It's very simple—people who are happy to work with me will work with me, and those who aren't won't. I'm not stupid enough to work with people who don't appreciate me! I don't speak poorly of people if they don't like me, they do what they want and I do what I want.

You've been consulting to a project in Armenia for several years; please describe this journey.

My relation with Armenia comes through Eduardo Eurnekian, a native Armenian residing in Argentina. I traveled there when asked by him to investigate his sites. The wines are interesting but cultivating the Karas vineyard isn't easy with Armenia's very cold winter and its stony soils to farm. However, its 170 hectares are now successful.

What led you to closely associate yourself with Israel's Amphorae Winery to the extent of allowing your signature to appear on its labels?

I never ask wineries to publicize my name if we work together. When working with a winery it's welcome to use my signature if it asks, but only on wines with which I work.

If wine hadn't moved you, your chosen career would've been...

I never ask myself this question. I was born with Merlot, grew up in the vineyard, studied agriculture then attended university for enology, spoke of and worked with wine throughout my life. My life has been a good one.
---
Also in Blog
Master Sommelier and founder of San Francisco Wine School David Glancy lives and breathes wine and has taught blind tasting for 20 years. He weighed in on just how accurate Apple TV's Drops of Gold Series really is. You may be surprised.
Roberto's lifetime of experience has captured the notice of many critics and fans alike. In 2006, the Italian Sommelier Association declared Roberto the "best Italian winemaker." In 2009, 'Wine & Spirits' magazine declared Roberto's winemaking project in Argentina the "best winery in the world". In 2013, 'Wine & Spirits' similarly declared their Malbec the "best Malbec in the world."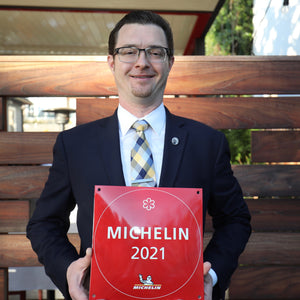 Paul Carayas is a Certified Sommelier and currently leading the wine Team at Chez TJ in Mountain View and a 2022 competitor in San Francisco Wine School's 2022 Somm Olympics, part of their annual Anniversary Celebration benefitting the Glancy Wine Education Foundation.