Special Guest: Roberto Cipresso
Roberto's lifetime of experience has captured the notice of many critics and fans alike. In 2006, the Italian Sommelier Association declared Roberto the "best Italian winemaker." In 2009, 'Wine & Spirits' magazine declared Roberto's winemaking project in Argentina the "best winery in the world". In 2013, 'Wine & Spirits' similarly declared their Malbec the "best Malbec in the world." Roberto has continued to collect acclaim, including recognition as a "Cult Oenologist" and frequent invitations to judge wine competitions.
Roberto's impact on the winemaking world of Europe and South America is profound. He is a frequent guest on podcasts and radio programs in the Italian and Spanish speaking wine world. Roberto is the author of numerous books on the subject of wine, and a pioneer of the style of "heroic viticulture" in which vines are pushed to produce new and rare expressions of the grape by being cultivated in locations which challenge the vines. As an ambassador for the Italian organization CERVIM, which promotes heroic viticulture, he is the driving force behind groundbreaking wines around the world.
The classic wine of Roberto's fine wine portfolio is without a doubt his celebrated Brunello di Montalcino. Fans of the style will appreciate that while Roberto does not produce a high quantity, it is of high quality and in an approachable, enjoyable, fresh wine - a challenge in such a regulated appellation! In addition to this venerable style, Roberto's great Malbec offerings from incredibly challenging Argentinean sites prove that he is a versatile master of the craft. Single-vineyard crus from sites up and down the ridge of the Andes in this beautiful country impress year after year.
Now, we are proud to say that this celebrated global winemaker has come to California. Roberto's latest offering to the world of fine wines comes with the launch of his California Pinot Noir portfolio, anchored by the 2021 Central Coast Pinot Noir. Selected single-vineyard crus from Cienega Valley, Chalone, and the Santa Cruz Mountains provide club members access to breathtaking expressions of Pinot Noir from challenging vineyards, while the accessible and eminently pairable Central Coast blend offers enjoyment for every day drinking.
You can join celebrated winemaker Roberto Cipresso as he unveils his new 2021 California Pinot Noir lineup at San Francisco Wine School. Roberto's work focuses on vines that are pushed to the limit in "heroic viticulture", developing complex grapes and producing expressive wine. He will discuss how his lifetime of work led to California and to Pinot Noir with host Master Sommelier David Glancy as they taste through his inaugural portfolio.  Get Tickets
---
Also in Blog
Master Sommelier and founder of San Francisco Wine School David Glancy lives and breathes wine and has taught blind tasting for 20 years. He weighed in on just how accurate Apple TV's Drops of Gold Series really is. You may be surprised.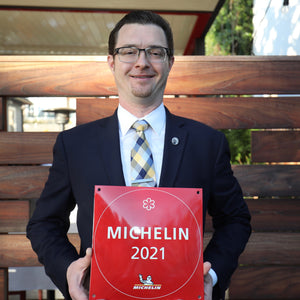 Paul Carayas is a Certified Sommelier and currently leading the wine Team at Chez TJ in Mountain View and a 2022 competitor in San Francisco Wine School's 2022 Somm Olympics, part of their annual Anniversary Celebration benefitting the Glancy Wine Education Foundation.
Lindsey Young is an Advanced Sommelier currently leading the wine team at Selby's Restaurant in Atherton and a 2022 competitor in San Francisco Wine School's 2022 Somm Olympics, part of their annual Anniversary Celebration benefitting the Glancy Wine Education Foundation and wine industry professionals in need of financial aid.  Read more about Lindsey...