Vega Sicilia - Leader of Spain
Few wines have a history as distinguished as that of Vega Sicilia. Founded in 1864, its top cuvée, Unico, was Spain's first great wine and until recent decades the only Spanish wine collected and coveted throughout the world.

As far as today's collectors are concerned, Vega Sicilia's history begins with the Alvarez family, who acquired the estate in 1982.  However, Vega Sicilia's legacy runs far deeper.  The original founder was entrepreneur Eloy Lecanda, who inherited the property in 1859.  He subsequently imported vine cuttings from France which he planted in 1864, alongside the region's indigenous varietal, then known simply as Tinto del Pais, or "Country Red", but today known as Tinto Fino or Tempranillo.  Surprisingly, it was the Tempranillo that produced the superior wine.

By the time of his death in 1894, Eloy Lecanda had 500,000 vines planted at Vega Sicilia. Thereafter, Vega Sicilia passed through a succession of owners, until it came under the stewardship of legendary winemaker Domingo Garramiola Txomin in the early 1900s. Garramiola produced the first vintage of Vega Sicilia in a style we would recognize today, the 1915. He created the estate's two key labels, Unico and Valbuena and also pioneered Vega Sicilia's now-signature winemaking process of long periods of oxidative aging in barrel.

By the early part of the twentieth century, word had spread about this remarkable winery from Northern Spain and when the 1917 and 1918 Unico vintages famously took prizes at the 1929 World's Fair in Barcelona, its reputation soared. The owner's insistence on deciding who should get his wine spurred its long run of mystery and exclusivity. Eventually, the wines were made available to the world, and Vega Sicilia became an enduring symbol of taste amongst Spanish wine connoisseurs.
When the Alvarez Family took control of Vega Sicilia in 1982, they brought with them modern business acumen and vast resources but also a great respect for Vega Sicilia's winemaking traditions. Much of Vega Sicilia's global reputation was forged in the 1980s and early 1990s by Don Pablo Alvarez, who joined the winery in 1985 as general manager, and who instituted and has continued to maintain meticulous wine producing practices.  Vega Sicilia's growing fame and desirability is testament not only to the estate's enduring legacy but to the world's craving for wines of history and noble bearing. 
Since acquiring Vega Sicilia, the Alvarez family have expanded their horizons to include four additional estates that now belong to the Vega Sicilia portfolio, recently renamed TEMPOS Vega Sicilia. In 1991, the family established the Alión estate in Ribera del Duero with the aim of producing more modern style Tinto Fino red wines that are aged in new French oak barrels. In 1997, they established the Pintía winery in the nearby Toro wine region and in 1993, they tuned their sights to Hungary and founded Tokaj-Oremus.  Their most recent introduction, the Macan estate based in Rioja, is the result of a unique new partnership between Vega Sicilia and Benjamin de Rothschild.


***Want to learn more?  Don't miss a very special event at San Francisco Wine School, Vega Sicilia Master Class & Tasting on Saturday March 10th!***
---
Also in Blog
Master Sommelier and founder of San Francisco Wine School David Glancy lives and breathes wine and has taught blind tasting for 20 years. He weighed in on just how accurate Apple TV's Drops of Gold Series really is. You may be surprised.
Roberto's lifetime of experience has captured the notice of many critics and fans alike. In 2006, the Italian Sommelier Association declared Roberto the "best Italian winemaker." In 2009, 'Wine & Spirits' magazine declared Roberto's winemaking project in Argentina the "best winery in the world". In 2013, 'Wine & Spirits' similarly declared their Malbec the "best Malbec in the world."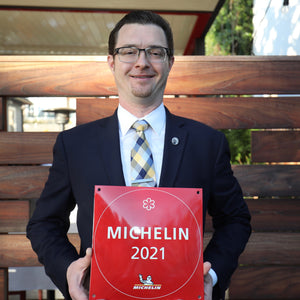 Paul Carayas is a Certified Sommelier and currently leading the wine Team at Chez TJ in Mountain View and a 2022 competitor in San Francisco Wine School's 2022 Somm Olympics, part of their annual Anniversary Celebration benefitting the Glancy Wine Education Foundation.