Day Trip to Venissa Winery on Mazzorbo Island, Italy
What is the first thing you do on arrival in Venice? A small group from our cruise promptly found a water taxi to whisk us away to the quiet island of Mazzorbo, at the north end of the Venice Lagoon. We followed David on a recommendation to Venissa Winery for a guided tour and tasting. We were blown away.
Venissa is home to the only hectare of the rare Dorona grape - in the entire world! The golden grape was nearly lost forever, but re-discovered in 2002 by Matteo Bisol (of Prosecco fame). A hectare of the grape was established within an ancient walled vineyard on the Venissa property. Dorona wine is uniquely Venetian, and was a favorite of local royalty 500 years ago. Tasting it in the 21st century, it is probably unlike anything you have experienced - full of almonds and ginger, deep gold in color, with velvety full body. If you didn't look at it, you might even think it was a red wine.
The Dorona project is one part of Venissa's agrotourism vision. There is also a Michelin-star Osteria amidst the vineyard serving super-fresh seafood from nearby canals and organic produce from a private garden. To experience the quiet of the island after the day-trippers have gone home, you may want to consider staying at Venissa's boutique bed & breakfast.
While some of us explored the lace and oldest church in Italy on neighboring islands, a few gave up, relaxed, and dined al fresco for hours while enjoying Venissa's other wine offerings and superb service. The chef was even up for creating a few unique and beautiful vegan dishes. The Venissa Rosso, a blend of Cabernet and Merlot grapes from the nearby island of Santa Cristina, was particularly nice with pasta, risotto, and grilled dishes. Talk about your perfect days.
Our 2019 summer cruise already in the works is sure to give us more fascinating experiences and memories. Join us!
---
Also in Blog
Master Sommelier and founder of San Francisco Wine School David Glancy lives and breathes wine and has taught blind tasting for 20 years. He weighed in on just how accurate Apple TV's Drops of Gold Series really is. You may be surprised.
Roberto's lifetime of experience has captured the notice of many critics and fans alike. In 2006, the Italian Sommelier Association declared Roberto the "best Italian winemaker." In 2009, 'Wine & Spirits' magazine declared Roberto's winemaking project in Argentina the "best winery in the world". In 2013, 'Wine & Spirits' similarly declared their Malbec the "best Malbec in the world."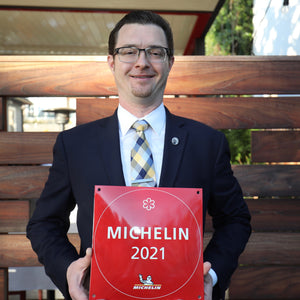 Paul Carayas is a Certified Sommelier and currently leading the wine Team at Chez TJ in Mountain View and a 2022 competitor in San Francisco Wine School's 2022 Somm Olympics, part of their annual Anniversary Celebration benefitting the Glancy Wine Education Foundation.