Travel Log – FWS Alsace Immersion Trip
by Betsy Noonen
Greetings from Alsace, where the wines are as fascinating as the region. I was one of 15 wine professionals experiencing the French Wine Society's first immersion trip here this week and the incredible hospitality of the regions finest producers.
The word this week has been terrior, and with 51 grand crus, we tasted a lot of terroir. The power of the limestone and its rich wines and the finesse of granite terrior and their many expressions kept us busy. Over five days, we tasted more than 200 wines, mostly poured by the heads of the houses themselves. We participated in a lively discussion at Marcel Diess (with Jean-Michel and his son) about the philosophy of co-planting varietals in the vineyard and harvesting them essentially at the same time and then not identifying the varietal on the label, only the appellation or parcel. The wines focus on the expression of the terrior, not the varietal.  This is very controversial way to make and market wine and is hotly debated by the producers in Alsace.  We heard candid thoughts about this first hand from Olivier Humbrecht of Domaine Zind-Humbrecht while sharing dinner with him at La Taverne Ancienne. Suffice to say, he is not buying it. His family has been making wine for 400 years in Alsace and he is vehemently opposed to this approach.
Alsatian wines are vibrant, dry, full of minerality and balanced between acid and fruit. A great food wine.  The producers face a challenge in telling this story to the rest of the world.  The consequence (one of many) of being a "best kept secret" is low prices for consumers, but with that comes the lack of opportunity for producers to dedicate resources for building brand or infrastructure.

Thanks to Thierry Meyer, who led our group, lives in Strasbourg and is highly respected here, we had the opportunity to meet the key producers and spent hours talking and tasting with them, including: Marc Tempe of Marc Tempe, Etienne Hugel of Maison Hugel, Guy and Pierre Wach of Domaine de Maronniers, Maurice Bartheleme of Domaine Albert Mann, Severine  Schlumberger of Domaines Schlumberger and Catherine Faller of Domaine Weinbach to name a few.  Thierry, along with Julien Camus, president of the French Wine Society, took us through the vineyards to understand the Grand Crus from the soil up and organized stellar meals (a few at Michelin-star restaurants) paired with current and rare vintages and yes, Alsatian wines do age well! This trip will be offered again by FWS in 2015.   I highly recommend it.
Betsy Noonen was one of David Glancy's Certified Sommelier students at the former Professional Culinary Institute and also a student in San Francisco Wine School's California Wine Appellation Specialist® program (CWAS). She learned of the French Wine Society through her time with us. She is co-founder of The Palette, where she custom builds "Sip, Bite, Create" events and also of 2Somms Consulting, marketing/sales for wineries and list development and events for restaurants and wine bars.
Have you ever been to Alsace or to any other regions of France with or without the French Wine Society?  What are your favorite producers and wines?
Learn more about wines from France with our French wine programs and workshops.


Check out our full schedule of programs, workshops and public events. Private, customized experiences and corporate training is also available.
---
Also in Blog
Master Sommelier and founder of San Francisco Wine School David Glancy lives and breathes wine and has taught blind tasting for 20 years. He weighed in on just how accurate Apple TV's Drops of Gold Series really is. You may be surprised.
Roberto's lifetime of experience has captured the notice of many critics and fans alike. In 2006, the Italian Sommelier Association declared Roberto the "best Italian winemaker." In 2009, 'Wine & Spirits' magazine declared Roberto's winemaking project in Argentina the "best winery in the world". In 2013, 'Wine & Spirits' similarly declared their Malbec the "best Malbec in the world."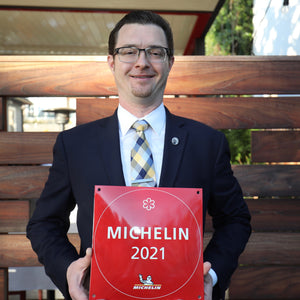 Paul Carayas is a Certified Sommelier and currently leading the wine Team at Chez TJ in Mountain View and a 2022 competitor in San Francisco Wine School's 2022 Somm Olympics, part of their annual Anniversary Celebration benefitting the Glancy Wine Education Foundation.