Okanagan Valley – Wines of British Columbia
Where as the proximity of the Pacific Ocean would lead one to think rainfall during the growing season is an ongoing threat, Okanagan's southern most Osoyoos growing district  is Canada's only official desert; less than a foot of rain annually elsewhere in the valley. The valley, 325m at its lakeshores, boasts higher degree days than Bordeaux; silty clay soils in its north, loamy in its center, sandy with stones at the higher points in the south. Vines were planted as early as the 1850s.
But though in 1976 German research scientist Helmut Becker asserted vinifera would profligate in Kelowna and Osoyoos, Okanagan's 'modern era' began only in the early '90s following the provincial government's NAFTA ­induced scheme to replace labrusca with vinifera, and the BC's Vintners Quality Alliance initiative which had been instigated by Harry McWatters and Gray Monk's George Heiss. When the pull­out scheme finished in 1992 there were 800 planted acres, now it's over 10,000 with labrusca now accounting for less than 1% of total plantings, white varieties outstripping those of reds beginning in 2010. Since 2002 Pinot gris has been the most popular white variety with Pinot noir (mostly in the northern area around the town of Kelowna) and Merlot (mostly in the south) jockeying for top red. The other incentive for growth in Okanagan was a 1991 law change will created a 'farm gate license' with which wineries with as little as two planted hectares could sell their wines directly to consumers, spurring not only production growth but also that of tourism.
Wineries to look out for include: Culmina, Joie Farm, Laughing Stock, Mission Hill Family, Nk'Mip, Okanagan Crush Pad, Quails Gate, Summerhill, Tantalus
* Of the Canadian wines you've tasted which, if any, have hailed from Okanagan Vly.?  * Of the grapes which do the best here­­ Chardonnay, Merlot, Pinot gris, Pinot noir, Riesling­­which would find a place on your list?  * Which other wine regions are known to have a desert climate?
Learn more about the Wines of British Columbia through our Idaho and British Columbia Workshop.
Check out our full schedule of programs, workshops and public events. Private, customized experiences and corporate training is also available.
---
Also in Blog
Master Sommelier and founder of San Francisco Wine School David Glancy lives and breathes wine and has taught blind tasting for 20 years. He weighed in on just how accurate Apple TV's Drops of Gold Series really is. You may be surprised.
Roberto's lifetime of experience has captured the notice of many critics and fans alike. In 2006, the Italian Sommelier Association declared Roberto the "best Italian winemaker." In 2009, 'Wine & Spirits' magazine declared Roberto's winemaking project in Argentina the "best winery in the world". In 2013, 'Wine & Spirits' similarly declared their Malbec the "best Malbec in the world."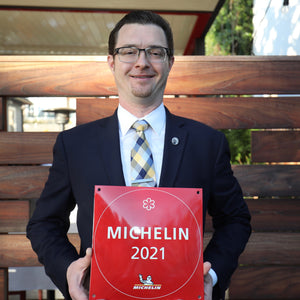 Paul Carayas is a Certified Sommelier and currently leading the wine Team at Chez TJ in Mountain View and a 2022 competitor in San Francisco Wine School's 2022 Somm Olympics, part of their annual Anniversary Celebration benefitting the Glancy Wine Education Foundation.