Fall Release Report – Spain
Cava is always a bargain, but the elegant, lemony and slightly yeasty Anna de Cordoniu Cava Brut nv $15 is especially a good deal. Ideal for showcasing delicate seafood and shellfish dishes, it also has the texture to match silky carpaccio. The slightly more esoteric Castell D'Or Flama D'Or Cava Brut nv $16 is creamy and tarry with notes of bosc pear, lemon curd and grilled pineapple. The first is a blend of 70% Chradonnay with 30% Parellada, while the second is all native – a blend of 30% Xarello (say "Charello'), 50% Macabeu, and 20% Parellada.
Though 2012 was unusually dry, vineyards near the Atlantic, older vineyards, and  irrigated vineyards fared well. The 2012 Palacio de Fefinanes Albarino Rias Baixas $26 consistently ranks as one of the area's top producers – there are close to 200. It offers fresh, briney notes as well as keen Riesling-like minerality, peach, apricot, and melon. It is bone dry and much creamier – less nerdy you could say – than Riesling. The estate, located inside a baronial palace on the coast of the Atlantic in Cambados, was the first to produce a wine under the DO Rias Baixas and has remained true to its terroir despite the recent trend to increase alcohol and ramp up barrel use. From Rioja, the 2012 El Coto Rioja Rosado $11, a 50/50 blend of Tempranillo and Garnacha, is unusually minerally, almost sanguine-like, along with the expected notes of ripe cherry, fresh strawberry, and lemon peel. This rosé has enough depth to pair well with richer fall fare. From the Martinez family, owners of Bodegas Faustino in Rioja which is very traditional in style, comes this more modern, ripe, deep and more intense 2012 Ebeia de Bodegas Portia Ribera del Duero $18. It still maintains a foothold in tradition however, with its rather light body (13%) and notes of Fernet Branca, Red Vines, white mushroom, and salami.
To read the full article, please visit:
http://grapegoddess-mastersommelier.blogspot.com/2013/12/spain-fall-release-report.html
Would you ever serve Cava instead of Champagne? Why, or why not?
Would you agree that Rioja is one of the wine world's overlooked bargains?
Check out our full schedule of programs, workshops and public events. Private, customized experiences and corporate training is also available.
---
Also in Blog
Master Sommelier and founder of San Francisco Wine School David Glancy lives and breathes wine and has taught blind tasting for 20 years. He weighed in on just how accurate Apple TV's Drops of Gold Series really is. You may be surprised.
Roberto's lifetime of experience has captured the notice of many critics and fans alike. In 2006, the Italian Sommelier Association declared Roberto the "best Italian winemaker." In 2009, 'Wine & Spirits' magazine declared Roberto's winemaking project in Argentina the "best winery in the world". In 2013, 'Wine & Spirits' similarly declared their Malbec the "best Malbec in the world."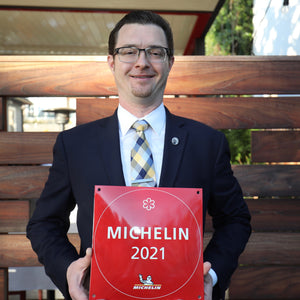 Paul Carayas is a Certified Sommelier and currently leading the wine Team at Chez TJ in Mountain View and a 2022 competitor in San Francisco Wine School's 2022 Somm Olympics, part of their annual Anniversary Celebration benefitting the Glancy Wine Education Foundation.