Champagne Fall Release Report
Champagne is going green. The CIVC has approved a new bottle (2 oz total weight) reducing the region's CO2 output by 8,000 metric tons. Champagne is also staying very commercially minded. Despite a very difficult start to the 2012 harvest, Philipponnat, Dom Perignon, Bollinger and others will release vintage wines. New in non vintage releases are the precise, muscular, yet graceful nv Philipponnat Grand Blanc de Blancs $60, yeasty and deeply toasty with notes of almond butter and lemon crème brulee, the nv Delamotte Brut $50, aka Baby Salon, elegant, ethereal almost, as it is primarily Grand Cru Chardonnay, and the nv Gaston Chiquet Cuvee de Reserve Brut $70, which offers lovers of mature Champagne notes of honey and lanolin owing to "reserves" of '01 and '04 cuvees in the blend. The finish is bracing and clean.  The nv Gosset Brut Grande Reserve $70, based on '05 and made with a sprinkling of Fromenteau, Petit Meslier, and Arbanne, is a lively, layered, very powerful Champagne that is rich enough for Lamb, as are the biodynamically-farmed nv Fleury Carte Rouge Brut $45, a breathtaking, intense cuvee of Pinot Noir, and the powerful, seductive nv Fleury Rosé de Saignée Brut $78. Another must have is the well-loved nv Laurent Perrier Cuvée Rosé Brut $100, pretty in appearance but book smart underneath – it is exclusively Grand Cru Pinot Noir.
Finesse is the order of the day with the classic nv Pol Roger Brut Reserve $65, while the edgy, razor sharp non-dosed and therefore bone dry nv Pol Roger Pure Brut $75 is ideal for crudo or that old standby, caviar. Get your geek on – the nv Chartogne-Taillet Les Barres Extra Brut $105 is made from ungrafted 60-year old vine Pinot Meunier, a grape that is getting much attention in Champagne these days, at least when it is old-vine.  Polar opposite in style is the nv Feuillatte D'Luscious Demi-Sec Rose $59, for that huge swathe of America that can't get enough sweet in their wine.
To read the full article, please visit http://grapegoddess-mastersommelier.blogspot.com/2013/12/champagne-fall-release-report.html
What is your go-to holiday Champagne?
Would you consider serving Champagne throughout the entire meal, and if so, why?
Check out our full schedule of programs, workshops and public events. Private, customized experiences and corporate training is also available.
Learn more about Champagne and other Sparkling Wines in our Champagne and other Sparkling Wines of the World Workshop.
---
Also in Blog
Master Sommelier and founder of San Francisco Wine School David Glancy lives and breathes wine and has taught blind tasting for 20 years. He weighed in on just how accurate Apple TV's Drops of Gold Series really is. You may be surprised.
Roberto's lifetime of experience has captured the notice of many critics and fans alike. In 2006, the Italian Sommelier Association declared Roberto the "best Italian winemaker." In 2009, 'Wine & Spirits' magazine declared Roberto's winemaking project in Argentina the "best winery in the world". In 2013, 'Wine & Spirits' similarly declared their Malbec the "best Malbec in the world."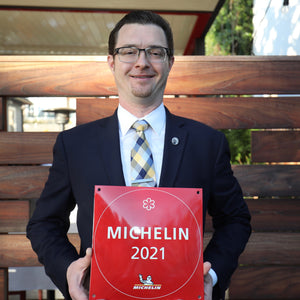 Paul Carayas is a Certified Sommelier and currently leading the wine Team at Chez TJ in Mountain View and a 2022 competitor in San Francisco Wine School's 2022 Somm Olympics, part of their annual Anniversary Celebration benefitting the Glancy Wine Education Foundation.