Press Release: San Francisco Wine School CEO Elected to Society of Wine Educators' Board of Directors
San Francisco, CA, August 29, 2013 – The membership of the Washington, DC based Society of Wine Educators has elected San Francisco Wine School's founder and CEO, David Glancy, to their Board of Directors. Of their 15 Directors, two are now Master Sommeliers (including Glancy) and one is a Master of Wine.
In addition to launching the San Francisco Wine School in June 2011, Glancy also runs SFsommelier Consulting, is on the Editorial Advisory Board of the Sommelier Journal and is Echanson Provincial (wine guy) for the Chaine des Rotisseurs Pacific Northwest. Previously, he created, managed and taught the Certified Sommelier Program at the Professional Culinary Institute (now known as International Culinary Center California). During that time, he secured the partnership for the school with the Court of Master Sommeliers and helped over 400 students pass the Court of MS' Certified Sommelier exam (CS). Glancy also taught wine and business management at Le Cordon Bleu's California Culinary Academy in San Francisco. He has worked in the wine industry for over 20 years, throughout the U.S. and Asia and has traveled to many of the major wine regions of the world.
Glancy is one of only 132 Master Sommeliers in North America, and 201 in the world, he has also passed the Society of Wine Educators' Certified Wine Educator Exam (CWE), the Certified Specialist of Spirits Exam (CSS) and French Wine Scholar Exam (FWS).
About San Francisco Wine School
Master Sommelier, David Glancy, launched the San Francisco Wine School in June 2011, which serves to provide world-class wine education and professional training for successful wine careers. Bringing all relevant credential programs under one roof, students are offered a number of career path choices in the wine business. A roster of top instructors offers up in-depth certification programs on a frequent basis. Online registration is now available for the September class of California Wine Appellation Specialist® (online or in-class) and Certified Specialist of Wine.
About The Society of Wine Educators
The Society of Wine Educators was founded in 1977. It is a non-profit educational organization whose mission is to advance wine education through professional development and certification. They offer several programs: ­the Certified Specialist of Wine (CSW), Certified Specialist of Spirits (CSS), Certified Wine Educator (CWE), and Hospitality/Beverage Specialist Certificate (HBSC). These are internationally recognized and highly regarded in the wine and spirits industry.
Advance your career in wine education and browse through our Wine Education Programs.
Check out our full schedule of programs, workshops and public events. Private, customized experiences and corporate training is also available.
---
Also in Blog
Master Sommelier and founder of San Francisco Wine School David Glancy lives and breathes wine and has taught blind tasting for 20 years. He weighed in on just how accurate Apple TV's Drops of Gold Series really is. You may be surprised.
Roberto's lifetime of experience has captured the notice of many critics and fans alike. In 2006, the Italian Sommelier Association declared Roberto the "best Italian winemaker." In 2009, 'Wine & Spirits' magazine declared Roberto's winemaking project in Argentina the "best winery in the world". In 2013, 'Wine & Spirits' similarly declared their Malbec the "best Malbec in the world."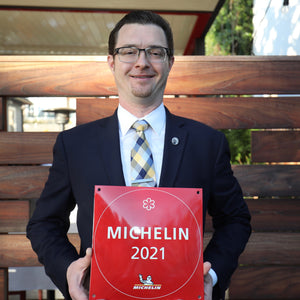 Paul Carayas is a Certified Sommelier and currently leading the wine Team at Chez TJ in Mountain View and a 2022 competitor in San Francisco Wine School's 2022 Somm Olympics, part of their annual Anniversary Celebration benefitting the Glancy Wine Education Foundation.