The Impact of Bottle Size on Wine Aging
Conventional wisdom says magnums of wine develop more slowly than 750ml bottles. The smaller the bottle, the more rapid aging is assumed to occur. We rarely test this theory in a completely objective manner though. Recently, I did.

I joined a dozen other wine writers for a blind tasting at Ridge Vineyards. Nine wines were poured blind from decanters in three flights of three. We were given no information at all about any of the wines., We assumed them to be produced by Ridge.

Most of us correctly identified the first set of wine as being Ridge Estate Cabernet Sauvignon, but we had a hard time being more specific. They had strong similarities: black cherry, blackberry and spice were prominent in each. Structure was nearly:  medium+ body, medium+ to high acidity and medium+ chalky tannins.
There were clear also differences and seemed to be varying amounts of age, but not enough to strongly suggest we were tasting a three-year vertical. Were these blending trial samples with slightly different varietal blends, vineyard blocks or barrel treatments?
Wine #1 seemed youngest, it's color tinged with purple. The nose was boisterous with the most obvious oak influence, sweeter fruit and more vanilla. It wanted further aging.
Wine #2 was more open and nuanced. Oak was well-integrated, vanilla not noteworthy. It was fully ready-to-drink, yet had the structure and depth of fruit to develop nicely for several years.
Wine #3 was both the most refined and expressive. It had come together completely, but didn't exhibit any tertiary aromas or flavors.
Later, we learned all three wines were 2009 Ridge Estate Cabernet Sauvignon, the current release, from 1.5l, 750ml and 375ml bottles respectively. After just 21 months in bottle, there were clear differences in development due to format.
Have you experienced a difference in wine aging based on bottle size?
Improve your wine understanding with our 2-Day Wine Immersion Experience.
Check out our full schedule of programs, workshops and public events. Private, customized experiences and corporate training is also available.
---
Also in Blog
Master Sommelier and founder of San Francisco Wine School David Glancy lives and breathes wine and has taught blind tasting for 20 years. He weighed in on just how accurate Apple TV's Drops of Gold Series really is. You may be surprised.
Roberto's lifetime of experience has captured the notice of many critics and fans alike. In 2006, the Italian Sommelier Association declared Roberto the "best Italian winemaker." In 2009, 'Wine & Spirits' magazine declared Roberto's winemaking project in Argentina the "best winery in the world". In 2013, 'Wine & Spirits' similarly declared their Malbec the "best Malbec in the world."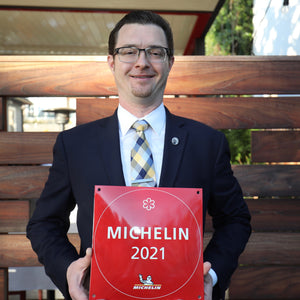 Paul Carayas is a Certified Sommelier and currently leading the wine Team at Chez TJ in Mountain View and a 2022 competitor in San Francisco Wine School's 2022 Somm Olympics, part of their annual Anniversary Celebration benefitting the Glancy Wine Education Foundation.