San Francisco Wine Shops That I Love by Master Sommelier David Glancy
I thought I would share some love with my favorite San Francisco wine retailers and hopefully help some shoppers in the process. I buy wine many places but two shops are head and shoulders above the rest for me.
San Francisco Wine Trading Company is a neighborhood secret that is not really in my neighborhood, but well-worth the detour. The owners are always there and the long-time staffers seem more like family than employees. Everyone is friendly, helpful and knowledgeable. They have a great domestic and international selection and the online inventory is up-to-date. A prominent section in the middle of the store is a regularly changing offering of wines under $20 that have conventional offerings plus a lot of fun and funky stuff. The rest of the store has a great mix of values, trophy wines and rare and obscure picks. People are always impressed with the spirits room in the back of the store as well. A lot of effort goes into their public tastings every Saturday afternoon. I go to these when I can and regularly direct my students there when the sessions align with our classes.
K & L Wine Merchants is my other go-to San Francisco wine vendor. Their low prices and huge selection are great; their San Francisco location is convenient to public transit, has parking and is super close to the freeway onramp. What I like best is their search filters on their web site. The ability to search by grape, region and inventory on-hand at any of their 3 stores is excellent. I love being able to order for delivery or pick-up at any of these locations as well. K & L's web site has allowed me to find wines from obscure AVAs and even search for organic wines when that has been the focus for classes or events.
Wine Searcher is another web site I use regularly to find specific wines. They do not sell wines but show the inventory of retailers all over the world. It is perfect when You absolutely must have a specific producer or bottling, but also can help you track down wines or spirits from someone's birth year, anniversary, etc. I have used this for many gifts over the last few years.
Other favorite wine shops? Please let us know if you have other places you love. 
Did you love a wine from class?  You know you can purchase most of these wines directly from us to enjoy later with friends & family And when you purchase a mixed case of 12 bottles, you'll save 10%. Wines can be picked up without charge or delivered for an extra fee. Simply send us your wine order form from class or email us your request. We're happy to help.
See our upcoming full program and single course schedule. Customized private events and corporate trainings are also available.
---
Also in Blog
Master Sommelier and founder of San Francisco Wine School David Glancy lives and breathes wine and has taught blind tasting for 20 years. He weighed in on just how accurate Apple TV's Drops of Gold Series really is. You may be surprised.
Roberto's lifetime of experience has captured the notice of many critics and fans alike. In 2006, the Italian Sommelier Association declared Roberto the "best Italian winemaker." In 2009, 'Wine & Spirits' magazine declared Roberto's winemaking project in Argentina the "best winery in the world". In 2013, 'Wine & Spirits' similarly declared their Malbec the "best Malbec in the world."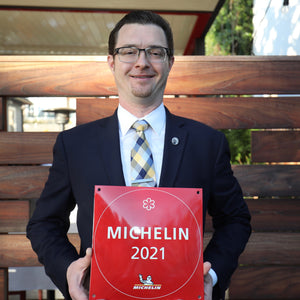 Paul Carayas is a Certified Sommelier and currently leading the wine Team at Chez TJ in Mountain View and a 2022 competitor in San Francisco Wine School's 2022 Somm Olympics, part of their annual Anniversary Celebration benefitting the Glancy Wine Education Foundation.