Muscat Grape Variety Profile
This is the second in a series of varietal profiles by Master Sommelier Catherine Fallis, presented to aid students in preparing for blind tasting exams and gaining a global view of many of the important grapes.
Often asked here is what is Muscat wine and what is unique about it's flavors and aromas? Muscat is an aromatic, highly perfumed and exotic grape that is popular in still, sparkling and sweet wines. It is the world's oldest known grape variety, and probably originated in Greece, where it is still cultivated today.
It is a wide family of grapes, the oldest and noblest of which is muscat blanc à petits grains. Petit grains means small berries, and this is one of the reasons the resulting wine is so aromatic and complex. Muscat blanc à petits grains is responsible for the softly sparkling low alcohol Moscato d'Asti and Asti (formerly Asti Spumante) from Piedmont, and the very sweet, intense Moscato de Pantelleria from the archipelago of the same name off the shores of Sicily (a passito version is also made here, which is even more intensely concentrated and sweet as a result of being made with pressed dried, or raisinated berries).
This variety is also found in what many consider the world's most elegant sweet fortified version, the southern Rhone's Muscat de Beaumes de Venise. In Alsace it is one of the "noble four." grapes. Picked at harvest time, these wines are grapey, dry, and clean. The late harvest versions, however, have one of the most exotic flavors in the world. In California it is known as orange muscat, where it is generally produced in a sweet, dessert style. It is also responsible for one of the world's famous dessert wines, Vin de Constance from Klein Constantia in South Africa where it goes under the name of muskadel. The famous liqueurs of Australia (brown Muscat) and the recently upgraded Muscat of Samos from Greece also demonstrate the range of this varietal.
Portugal's Moscatel de Setubal is made with Muscat of Alexandria, a less interesting version of the grape. Chile distills most of its Muscat of Alexandria into the national spirit, Pisco. Most of the dry aromatic wines of the same name in Alsace are made with Muscat Ottonel, the palest of the variety.
What are your markers for identifying Muscat in blind tastings?
What are some of your favorite regions or producers of Muscat?
Find a program that's right for you and take a look at our Wine Grapes of the World Series.
Check out our full schedule of programs, workshops and public events. Private, customized experiences and corporate training is also available.
More of Catherine's work can be found at www.planetgrape.com, Twitter, Facebook and LinkedIn.
---
Also in Blog
Master Sommelier and founder of San Francisco Wine School David Glancy lives and breathes wine and has taught blind tasting for 20 years. He weighed in on just how accurate Apple TV's Drops of Gold Series really is. You may be surprised.
Roberto's lifetime of experience has captured the notice of many critics and fans alike. In 2006, the Italian Sommelier Association declared Roberto the "best Italian winemaker." In 2009, 'Wine & Spirits' magazine declared Roberto's winemaking project in Argentina the "best winery in the world". In 2013, 'Wine & Spirits' similarly declared their Malbec the "best Malbec in the world."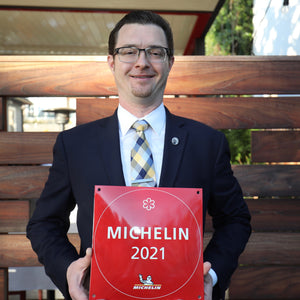 Paul Carayas is a Certified Sommelier and currently leading the wine Team at Chez TJ in Mountain View and a 2022 competitor in San Francisco Wine School's 2022 Somm Olympics, part of their annual Anniversary Celebration benefitting the Glancy Wine Education Foundation.