Antonio Galloni of The Wine Advocate on Wine Critics and Champagne
At the recent Symposium for Professional Wine Writers, I had the opportunity to talk quite a bit with Antonio Galloni of The Wine Advocate. He said on numerous occasions and in different ways that it is not his goal to be a taste-maker nor an agent of change for wine styles. Of course, being a wine reviewer with enormous readership, his writings may have that effect nonetheless.
"I don't believe critics should shape anything," Galloni said during a lunchtime chat when asked if writers did/should lead the move toward more elegant wines in California. He is not entirely against using his influence to drive change though. He is on a crusade of sorts. It's something I think should be of interest to the trade too.
Antonio Galloni wants critics to follow his lead and stop reviewing non-vintage Champagne without a disgorgement date printed on the label. "I realized there was a problem when I discovered I had been sent exactly the same Champagne for review two years in a row," he said. "It's not right." Now, he's a consumer advocate.
He believes wine enthusiasts have a right to know whether the sparkling wine they are about to buy is a new release or is essentially slow-moving inventory. Does the new review they read pertain to the bottle before them? We all know non-vintage Champagne is not identical from year to year. And if it were, why would producers send review samples?

Antonio Galloni hopes that, if he and other critics refuse to review undated NV Champagne, producers will feel compelled to date the bottles. What are your thoughts? Are disgorgement dates important to you?
Learn more about Champagne and other sparkling wines.  See our upcoming full program and single course schedule. Private, customized corporate training is also available.
---
Also in Blog
Master Sommelier and founder of San Francisco Wine School David Glancy lives and breathes wine and has taught blind tasting for 20 years. He weighed in on just how accurate Apple TV's Drops of Gold Series really is. You may be surprised.
Roberto's lifetime of experience has captured the notice of many critics and fans alike. In 2006, the Italian Sommelier Association declared Roberto the "best Italian winemaker." In 2009, 'Wine & Spirits' magazine declared Roberto's winemaking project in Argentina the "best winery in the world". In 2013, 'Wine & Spirits' similarly declared their Malbec the "best Malbec in the world."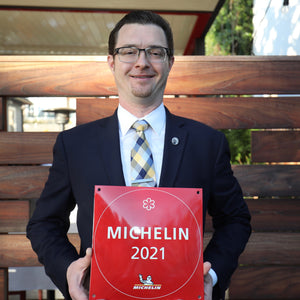 Paul Carayas is a Certified Sommelier and currently leading the wine Team at Chez TJ in Mountain View and a 2022 competitor in San Francisco Wine School's 2022 Somm Olympics, part of their annual Anniversary Celebration benefitting the Glancy Wine Education Foundation.