Nantucket Vineyard: Island Inspiration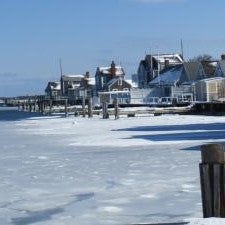 Making wine is all about passion, that is nothing new, but it is fascinating to see unparalleled devotion to making wine against all odds. While Martha's Vineyard evokes vinous imagery, another island in the Atlantic, Nantucket, is becoming renowned for its unique wines. Farther out at sea and unprotected from its whims, Nantucket sits off the coast of Massachusetts. There are no bridges connecting it to the mainland and getting there is never easy... the "fast" ferry takes an hour. Whether you reach the island via plane or by boat, it is an isolated place, which is part of its charm. The island has no stoplights, no McDonald's, and the understated 18th and 19th century architecture keeps it an untouched paradise. Named a National Historic Landmark District, it is the epitome of a New England seaport, and on your journey there you are transported in time.
On this island is Nantucket Vineyard. Sandwiched between and collaborating with Cisco Brewery and Triple Eight Distillery, Nantucket Vineyard rests on a valuable patch of farmland. Dean and Melissa Long started Nantucket Vineyard in 1981. On this windswept, sandy soil Dean tried growing all sorts of grapes, mostly unsuccessfully. Winters on the island are rough on vinifera vines. Plants suffer from desiccation during the cold winters and cold snaps mean that vines often suffer from winter kill. Springs are tenuous with rains and wind disrupting fruit set and summers can be humid and at times rainy, no Mediterranean climate here. Dean tried his hand at Riesling, Chardonnay, Tempranillo, Cabernet Sauvignon, Cabernet Franc and Merlot, but yields were low, harvests sporadic and ripeness hard to come by. Despite experimentation with trellising, vine height, and different varieties the writing was on the wall. Although every few years they would have a great vintage of sparkling wine or Cabernet Sauvignon, after 18 years of growing grapes on Nantucket, Dean decided to stop growing grapes. Rather than give up, though, Dean began sourcing fruit from growers off island. After working with a lot of east coast sources he found that he really enjoyed working with Washington state growers.
Winemaker Ian Spencer helps Dean with everything from racking to coordination of shipments of barrels, bottles and bungs. When the grapes are harvested in Washington, growers ship the fruit to the island under temperature control. The two-trucker team hits the road on the 72 hour cross country journey until they hit the coast... it's not unusual for them to call the winery wondering how they are supposed to get the grapes to the island. One benefit is that the cold soak for some of their lots is actually built in.
Despite the inconvenience of winters storms, wind, ice in the harbor or Nor'easters that sometimes delay the boats for days, Ian says that although logistics are a bit more challenging than those for wineries that can take a quick drive over to their cooper, overall they have figured things out. It just takes a little more lead time and planning.
Dean affirms that although it may seem prohibitive to make wine this way, the biggest pressure is that for space, space on this island is limited. Much of the 47.8 square miles on island is conservation land. The winery is tight, and much of the crush pad rests outside. Ian braves the cold weather on the crush pad throughout the seasons. Coordinating everything from afar is a little bit difficult, but overall it's a great job, and the only one of its kind on this island. Ian says the only thing he really needs sometimes is a roof, but he's not complaining.
When you consider wines vinified on an island from grapes grown in Washington these wines are definitely unique. With years under his belt, Dean's secret is with experience. Dean enjoys matching grapes to particular barrels, almost as a chef would match spices in a dish. Working with barrel producers to fine tune barrel processes (toast, bending, etc.) result in better or worse pairings. While he has to coordinate things a bit more particularly to fit the right quantities of fruit into the truck (this year they crushed 65 tons of fruit, which fit into three trucks), that does limit his ability to experiment a bit. This year Dean is excited to expand the winery tasting room and increase the number of wines on tap for the busy summer season.
Nantucket Vineyard wines do not have vintage dates or AVAs because the fruit is grown and the vinification occurs in two non-contiguous states and according to Taxation and Trade Bureau law that means no vintage or AVA on the label, but Dean says most people do not even notice. As they grow to understand the process of making wine at sea, so to speak, they are not really worried about it. "The most important part is the attention to detail." While summer seems far away and the crush pad and tanks are covered in snow from the last storm, soon things will thaw out. The year round population of about 10,000 will start to blossom to 60,000 as people return to the island. The May Nantucket Wine Festival kicks off the season and soon the winery will be bustling with visitors sipping wines both from bottle and chilled on tap. For more information:

Nantucket Vineyard
http://ciscobrewers.com/nantucket-vineyard-wines
Cisco Brewers
5 Bartlett Farm Road
Nantucket, MA 02554
508-325-5929
508-325-5209
May 13-17, 2015
https://www.nantucketwinefestival.com
Discover more about the wines of Washington with our Washington State wine workshop.
Check out our full schedule of programs, workshops and public events. Private, customized experiences and corporate training is also available.