Insider Interviews by David Furer – Presenting Stuart Pigott

My first encounter with the work of Stuart Pigott was as a relative novice to the world of wine in the mid-'90s having read his entrancingly informative book on the Wines of Germany, written with the guidance of fellow Englishman Hugh Johnson. It so inspired me that I arranged a 3-month 'practicum' for myself in the Mosel and Rheingau. It was over dinner at the Moselside home of the Loosens that we first met, exchanging ideas of wine overall and Rieslings in particular over wine party games Ernie soon became notorious for. I caught up once again with Pigott at the premier 'City of Riesling' event on July 27th this year in Traverse City, Michigan, where he was promoting his new book 'Best White Wine on Earth' (Stewart, Tabori & Chang) and attending the city's film festival where he showed his short 'Watch Your Back; The Riesling Movie (Part 1)'. We chatted over glasses of Rieslings, naturally--Ontario's Cave Spring and Oregon's Brooks.

Why makes Traverse the 'City of Riesling'?

It's the vineyards on the twin peninsulas of Leelanau and Old Mission, the quality of which have been key to waking up Michiganders to the fact that something important is happening here.

You relocated from your long-time home of Berlin to New York City in 2012. Does this portend your dedicating yourself to spreading the gospel of Riesling to Yanks?

Hallelujah! Since I first came to the US in August 1995, I've been fascinated by this culture. Every culture is also an 'un' culture, and the US has gotten a lot of flack for this. German culture is less visible but much commented upon, but in the US it is there--I promise you.

German wines in general and Rieslings overall have enjoyed a rising tide of sales in the US starting about a decade ago, yet this hasn't a parallel in your birthplace and my former home of Great Britain. Why the difference?

Because the pons don't want to, they're still fighting the 'don't talk about the war' mentality. The outcome of WW2 didn't influence the Brits dramatically. But the difference between the UK and the rest of the EU has triggered that response. There's envy for Germany's economic success shown by the BBC, and it's an unhelpful attitude. Americans are much more open, more helpful.

Because of its naturally high acidity, why doesn't Riesling excel in warmer climates as it does in cooler ones? You'd think this aspect would help it, but it doesn't. Why is that?

I think there's a lot of self-fulfilling prophecy proffered by wine journalists about where Riesling grows. Clare Valley is an interesting example. (Fellow wine writer) Oz Clarke says that it's a cool climate region simply because it excels in producing great Rieslings. But it can reach 100F many days in the summer which can be brutal. But the secret of Clare is that the heat summation is more than the floor of Barossa Valley. The difference is that during Barossa evenings are so mild that you can sit outside and enjoy a barbie. In Clare, within 20 minutes of the sun descending it will become chilly. Look at Washington's Columbia Valley--hot days but with cold nights. In that desert climate Riesling can do very well as long as it gets enough water in the growing season.

In the annals of quality vinifera, Riesling has a high level of tartaric acid as opposed to malic acid. This is hardly mentioned as the reason for its unique structure and ability to age. Why is that?

Wine professionals tend to focus upon those pH numbers and they're not looking at the relationship between those acid components. Differentiating how these acids function helps make wines unique.

Desert island scenario w/o a Riesling to be found; name its not-so-evil twin to be enjoyed in its place.

The closest match is Chenin blanc. If I was on a desert island without a Riesling I would be drinking an elegant Chardonnay. Not a bullshit one, there's too many of them around, but something like Mount Eden from the Santa Cruz Mountains, a great wine by any standards.

What are three of your favorite Riesling and food pairings?

First one is the shocker--ribs and a medium sweet Riesling if the wine is young with sweetness and a little spice, second is medium-dry with smoked salmon or possibly a bone dry Riesling, third is dry with high acidity such as Brooks from Oregon with oysters--it's a great match.

In selling Riesling at the table, what should a US sommelier keep in mind?

The guest certainly imagines that Riesling is only sweet. The IRF scale has helped in the shelf situation, but in the restaurant that is still very much an issue as many people long ago tried Riesling and found bad Riesling made sweet and they need to reconsider that dry and medium dry Riesling can be great food wines.

Stuart's musings may be found at http://www.stuartpigott.de.
Learn more about Riesling with our Rieslings of the World
Rieslings of the World class.

Check out our full schedule of programs, workshops and public events. Private, customized experiences and corporate training is also available.
---
Also in Blog
Master Sommelier and founder of San Francisco Wine School David Glancy lives and breathes wine and has taught blind tasting for 20 years. He weighed in on just how accurate Apple TV's Drops of Gold Series really is. You may be surprised.
Roberto's lifetime of experience has captured the notice of many critics and fans alike. In 2006, the Italian Sommelier Association declared Roberto the "best Italian winemaker." In 2009, 'Wine & Spirits' magazine declared Roberto's winemaking project in Argentina the "best winery in the world". In 2013, 'Wine & Spirits' similarly declared their Malbec the "best Malbec in the world."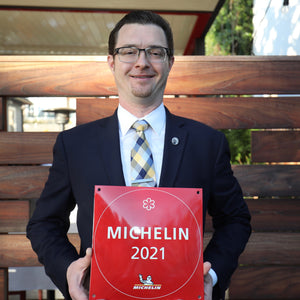 Paul Carayas is a Certified Sommelier and currently leading the wine Team at Chez TJ in Mountain View and a 2022 competitor in San Francisco Wine School's 2022 Somm Olympics, part of their annual Anniversary Celebration benefitting the Glancy Wine Education Foundation.