New Video Series on California Wine Regions - 8 Wine Videos, 15 Minutes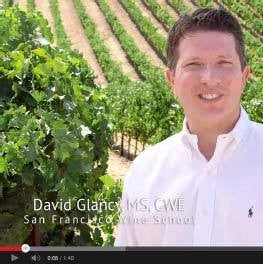 San Francisco, Calif. (September 25, 2014) - In celebration of California Wine Month 2014, created by Wine Institute and recognized with a proclamation by Governor Brown, San Francisco Wine School has produced a series of educational videos featuring founder and Master Sommelier David Glancy. 
In his easy-going, friendly style, Glancy offers insights into the California's signature grape varietals and wine regions, providing valuable tips for visitors from a wine insider, including the answers to these questions, and more: Which region gave birth to 80% of California's Chardonnay wine? Where can you pan for gold before tasting the signature local Zinfandel? Where will you find the best sports car drive in Wine Country? Where should you go for great-tasting, "value" Cabernet? 

The eight videos, each under two minutes in length, follow San Francisco Wine School's California Wine Appellation Specialist® program, covering Lake County and the Sierra Foothills, Mendocino, Napa, Sonoma, Livermore, Lodi and Santa Cruz Mountains, Monterey and San Benito, Paso Robles and San Luis Obispo, and Santa Barbara and South Coast.

That's the entire state of California in 15 minutes or less.

Which wine region is ten times the size of Napa Valley, with more than 600 mostly-boutique wineries? Who grows wine with "altitude," around 3500 feet of altitude? Which region is known for its "cowboy" wines? Where's the Blue Grand Canyon and what does it have to do with wine? Where should you visit if you love Negrette? What kind of grapes grow in Happy Canyon? Where do wine makers sometimes speak their own local dialect called Boontling? Which California wine region is just 10 minutes from Silicon Valley?

To learn about all there is to see and taste in California wine regions, view the series at Wine Institute's consumer website www.discovercaliforniawines.com/media-trade/videos, now available in seven languages for ten markets.

More! New fall classes have been posted – CWAS Online begins 10/13 and the CWAS 3-Day Intensive in Los Angeles runs 11/7-9. See the full class schedule here.

About San Francisco Wine School At San Francisco Wine School, our mission is to breathe new energy into the world of wine education by teaching only the wine topics and credential programs that best prepare students for success. Our carefully chosen curriculum is taught by industry-leading instructors and features the best content in the business: expert material, carefully conceived wine flights, and interactive blind tasting exercises designed to engage students and enhance learning. San Francisco Wine School launched the first ever, in-depth California professional credential California Wine Appellation Specialist® (CWAS), and Somm Essentials, a foundational program for the food and wine industry.

Learn more about San Francisco Wine School at https://sanfranciscowineschool.com/. Follow San Francisco Wine School on Facebook, Twitter, or join our mailing list to get the latest news, tips and class information.

About Wine Institute Established in 1934, Wine Institute is the association of nearly 1,000 California wineries and wine-related businesses that initiate and advocate state, federal and international public policy to enhance the environment for the responsible production, consumption and enjoyment of wine. For information, see www.wineinstitute.org.

Journalists are asked to contact Christine Piccin of the MacKenzie Agency at piccin@mackenzieagency.com or (707) 545-3280.
Learn more about California wines in our California Wine Programs and Workshops.
Check out our full schedule of programs, workshops and public events. Private, customized experiences and corporate training is also available.
---
Also in Blog
Master Sommelier and founder of San Francisco Wine School David Glancy lives and breathes wine and has taught blind tasting for 20 years. He weighed in on just how accurate Apple TV's Drops of Gold Series really is. You may be surprised.
Roberto's lifetime of experience has captured the notice of many critics and fans alike. In 2006, the Italian Sommelier Association declared Roberto the "best Italian winemaker." In 2009, 'Wine & Spirits' magazine declared Roberto's winemaking project in Argentina the "best winery in the world". In 2013, 'Wine & Spirits' similarly declared their Malbec the "best Malbec in the world."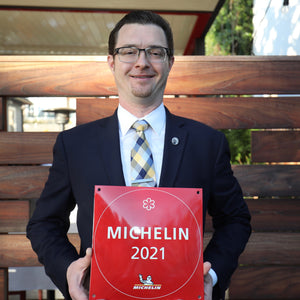 Paul Carayas is a Certified Sommelier and currently leading the wine Team at Chez TJ in Mountain View and a 2022 competitor in San Francisco Wine School's 2022 Somm Olympics, part of their annual Anniversary Celebration benefitting the Glancy Wine Education Foundation.