What is Sassicaia?
The history behind Italy's famous wine and the Tenuta San Guido- Chateau Lafite-Rothchild connection...
Sassicaia is a wine known and loved the world over. From a beautiful coastal hamlet in Tuscany, this Super Tuscan blend is hands down Italy's most famous wine. It is also the world's second most counterfeited wine after Chateau Petrus.

So what is behind this success story? In 1948, the Marchese Mario Incisa della Rocchetta began a revolution in Tuscan winemaking, and not in the traditional wine region of Tuscany, Chianti Classico, but at a large farm in the village of Bolgheri located close to Tuscany's Mediterranean coastline in the southwestern part of the province.

It was here, at Tenuta San Guido, that Incisa decided to plant Cabernet Sauvignon and Cabernet Franc vine cuttings that he had received from his buddy at Château Lafite-Rothschild in Bordeaux. The Marchese made a non-traditional wine from these non-traditional grapes planted on a non-traditional site. The wine, Sassicaia, which Incisa made for his family and friends, was aged in non-traditional French barriques – small French oak barrels – not the classic old Slavonian oak casks preferred by Tuscan producers.

Incisa's brother-in-law, Marchese Niccolò Antinori and his son, Piero, realized the commercial potential of Sassicaia. Working with Mario Incisa's son, (also named Niccolò), Antinori winemaker Giacomo Tachis, and Bordeaux-based enologist, Emile Peynaud, the Antinori family brought Sassicaia to market in 1968.  It was wildly successful, and the "Super Tuscan" era had begun, along with the birth of new labeling designations IGT, DOC Bolgheri, and DOC Bolgheri Sassacaia.

Stepson of Niccolò Incisa della Rochetta, Dottore Sebastiano Rosa, from 2002 to 2011, as Technical Director of his family's estate, created the second and third labels for Sassicaia – Guidalberto and Le Difese. The winemaker since 2012 is Graziana Grassini, one of the most important winemakers in all of Italy. Teunta San Guido is still owned by the noble Incisa della Rocchetta family. They also own Bodega Chacra in Patagonia Argentina and Agricola Punica in Sardinia.

Learn more about the wines of Italy with our Italian wine programs and workshops.
Check out our full schedule of programs, workshops and public events. Private, customized experiences and corporate training is also available.
---
Also in Blog
Master Sommelier and founder of San Francisco Wine School David Glancy lives and breathes wine and has taught blind tasting for 20 years. He weighed in on just how accurate Apple TV's Drops of Gold Series really is. You may be surprised.
Roberto's lifetime of experience has captured the notice of many critics and fans alike. In 2006, the Italian Sommelier Association declared Roberto the "best Italian winemaker." In 2009, 'Wine & Spirits' magazine declared Roberto's winemaking project in Argentina the "best winery in the world". In 2013, 'Wine & Spirits' similarly declared their Malbec the "best Malbec in the world."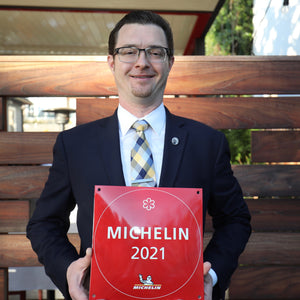 Paul Carayas is a Certified Sommelier and currently leading the wine Team at Chez TJ in Mountain View and a 2022 competitor in San Francisco Wine School's 2022 Somm Olympics, part of their annual Anniversary Celebration benefitting the Glancy Wine Education Foundation.