Meet Karl Storchmann - Wine Economist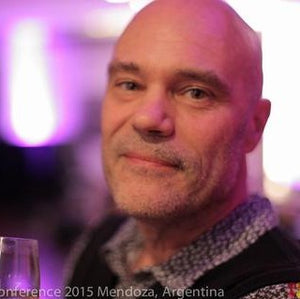 by David Furer

Karl Storchmann came to my attention in 2005 when I received a notification through the Circle of Wine Writers when serving upon its executive committee that the New York City-based German and others had formed the American Association of Wine Economists.

Some of Storchmann's visiting scholastic positions in the fields of economics, transportation, and environment have included stints at NYU, UCLA, Yale, Bordeaux Business and Management Schools, and Germany's Bochum University amongst others institutions. In addition to his focus upon wine economics, since 2005 he's been a member of the Scientific Committee of Society for Quantitative Gastronomy.
What led to the formation of the AAWE?
In the 1990s, when I was still living in Germany, I had a vineyard in the Mosel's Zell as I like to drink and make wine. For a living, I worked as a senior economist for a German think tank. In 1999, I joined a group of wine-enthusiastic economists called VDQS (Vineyard Data Quantification Society) which met annually giving talks on wine economics. The 30 of us in 2003 thought to have a journal publishing the best of the papers we were writing. After obtaining my Ph.D in Germany, I moved to the States in 1999; first at UCLA, later I taught at Yale. After a few years, I knew I wanted to stay, and looked for a tenured job as an economics professor in the U.S. I took a position at Whitman College in Walla Walla Washington as it was the fastest growing wine cluster in the US with explosive growth. The private, comparatively wealthy college promised to sponsor this journal, and in 2005 we founded the American Association of Wine Economists (AAWE) and in 2006 we published the first issue of its academic outlet, the Journal of Wine Economics (JWE). At first, it was very small undertaking an; we worked with students—the layout, typesetting, design in a very small shop printing 100 copies. Now, with Cambridge Press JWE is more than 3,000 libraries worldwide and distributed to almost 1000 AAWE members. In 2005/2006 neither economists nor the wine world took us very seriously. Many fellow economists smiled when hearing about 'wine economics' thinking this is just another excuse to pop a bottle. The wine world was convinced that wine cannot be captured by numbers and economists should stay out. Ten years later, this has totally changed. 
In the wake of the 2008 recession many US wineries contracted, sought injections of hard-to-find investment capital, and/or were sold to ready buyers. How are things today seven years away?
Prices went down for two reasons. First, falling incomes during the recession caused a cap on the rising prices. Second, the cake was shrinking, i.e., less wine was consumed and wineries had to lower prices due to stiffer competition. Now the income is back and we've decent growth, all is back on the normal growth path. In fact, Napa County recently reported the biggest wine export numbers ever. We've certainly more than made up from that little slump. 
What direct and indirect factors might contribute to the next bubble bursting?
That assumes that we have a bubble, and I don't think that we do. I think prices of US wine at the top end are relatively stable, just reflecting skyrocketing prices of land in Napa Valley. Given the high land cost, high wine prices don't necessarily translate into high profits.
What are some of the pitfalls engaged in by wine professionals in the process of selling wine?
There is some interesting research on polarization in the wine industry. Assume there are two kinds of people who make wine. One is motivated by making a profit, the other by its love for wine. This is, of course an extreme characterization. In reality, each winemaker exhibits some of each of these traits. But some are more profit-driven, others more love-driven. Those who make it for love often don't have a wine background. Many were previously in the financial sector and retired with some wealth and don't have to run a profit. A sizable part of their utility stems from friendship, conviviality and being respected. To earn respect you need to make good wine, very good wine. That is, love-driven winemakers often outbid profit-driven winemakers for top-quality fruit. That drives profit-winemakers toward the lower end of the quality scale. This why you have differentiation between big companies (profit) and smaller ones (love). 
How should wine be priced when one begins a brand?
Economists call wine an "experience good"; that is, you need to consume it before you know whether it's any good. That is why consumer rely on cues that indicate the quality of the wine. When you are in a wine store searching for a good wine one checks the weight of the bottle, the cork, the label etc. thinking it might tell something. However, the most important cue is the wine's price. Right or wrong, most people associate high price with high quality. That's important thing to know for a winery which should always have some very expensive wines in their portfolio as a reputation builder.
To what do you attribute the surge of wine tourism in non-Left Coast US states?
People love to go to wineries having wine tastings. The main problem on the east coast, except for the Finger Lakes, the North Fork of Long Island, or some parts of Virginia, is that there aren't many winery clusters. There are some excellent wineries in New Jersey, but they're all 30 miles apart from each other making it very difficult to develop a 'wine trail' to attract wine tourists. When I lived in Walla Walla I saw how this can be done. The city of Walla Walla and the county built many small 'incubator wineries' near the airport which were rented out to start-ups for little money fostering the local wine industry while clustering together many wineries. I think that is a brilliant example of public policy.
With the political will, this could be easily done in New York, New Jersey, Pennsylvania, or Maryland. In fact, given the proximity of big urban clusters like New York City, Philadelphia or Washington DC, success is almost guaranteed. Currently, many wineries rely on weddings as their main income source.
How do you view the long-term implications of DtC wines sales as per its impact upon the traditional 3-tier system, and how might this impact the on-premise wine buyer?
As a German I've a general problem with a mandatory 3-tier system. There are middlemen and distributors in Europe, too, but stores and wineries do not have to use them. If they choose, private consumers or wine stores can call a winery anywhere in the EU and get wine shipped directly to their door. When I lived in Germany, I also had a small wine retail business and I never used any middlemen. Using distributors is an option. There are certainly situations where they are very useful but there are also cases where they aren't.
The two arguments, made by wholesalers, why the 3-tier system should be mandatory are: they secure jobs and make sure that alcohol doesn't get into the hands of minors. I think both arguments are hollow. The state of Virginia has allowed for wines to be shipped to consumers since 2003, a liberalization that's led to a spike in retail wine employment with no shop losing money from this change. The argument that this would encourage abuse by minors is totally without merit as shippers require proof of age in signing for alcohol beverages. Wholesalers cling to the 3-tier system because it gives them monopoly rents. Laws stipulating the current 3-tier system should be rescinded and instead be optional.
It's been only in the last few years that New York wines have found their way onto a sizable number of the city's better wine lists. How can wineries in other non-Left Coast US states best get attention from their resident restaurant wine buyers? 
The bandwidth of wines from New York is relatively small—dry white and light reds, no big reds -- though they do exist in Virginia, Maryland, and New Jersey. But there are no New Jersey wines in New York City because the east coast estates, especially in New Jersey, have fought many legal obstacles. Once the number of wineries in New Jersey was capped to 5 or 6; by law, there couldn't be more than one wineries for every 500,000 or 600,000 residents was fixed. The wineries also aren't organized like they are in New York, and have divergent interests. The Garden State Wine Grower Association has a decent budget fed by state alcohol taxes, but instead of promoting quality they invest their budget into wine festivals and street fairs. Quality producers are without the critical mass needed to be in the driver seat and to promote themselves properly. 
What are the economic benefits to on-premise wine buyers in maintaining sales of their locally-produced wines?
Why at fine US restaurants caring about local foods do we drink wines made from small villages in France? By working with the local winemaker you can do events and help everyone to grow. This would open a world of opportunities. In fact, the first wine made from grapes grown in Brooklyn are hitting the market in two years. 
Why doesn't the wine professional know of and support more non-Left Coast US wines?
Most wine critics don't care about locally-produced wines. In 2012 the AAWE did a tasting similar to the Judgement of Paris at Princeton University with George Taber, the same writer who reported upon the JoP for Time magazine in 1976. We bought different vintages of the same wines used in the tasting, inviting ten wine critics letting them drink those against those from an unknown wine region with the outcome a statistical tie, reported upon by the New York Times, Wall Street Journal, New Yorker…but you won't find a word on the Judgment of Princeton in any wine magazine. I assume they think it more profitable to report about an obscure Loire Valley winemaker rather than what's happening nearby to 20 million people. After all, wine critics need to sell their expertise. 
What's the most memorably pleasant sales experience you've had when being served wine in a restaurant or bar?
When AAWE had its 2013 conference in Stellenbosch I was in Franschoek's Reuben restaurant tasting a wine that I thought was corked. It turned out to be the last bottle so the server pulled out 3 or 4 ancient wines for my group and me, Pinotage from 1975 and other crazy wines. In the end, he joined us making it a friendship built from a corked bottle of wine. Wine gets people to become friends in a short period of time. 
Please check out Storchmann & Co.'s Journal of Wine Economics (JWE). Membership fees are $39/year (online only) or $59 (online + hard copies). Members have full online JWE access and receive a substantial registration discount at its annual conferences.
Check out our full schedule of programs, workshops and public events. Private, customized experiences and corporate training is also available.