Student Spotlight: Kamolnutt "Nu-Beer" Putthongvilai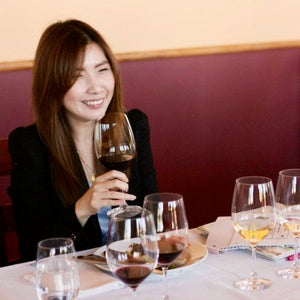 Nu-Beer is the restaurant manager at M.Y. China, a modern Chinese restaurant located at Westfield San Francisco Centre in the heart of downtown San Francisco. M.Y. China is lead by Chef Yong Dong "Tony" Wu, who represents the new generation of talented Chinese chefs. He is part of the vanguard of chefs who bring a dynamic and innovative approach to traditional Chinese cooking, experimenting with both new ingredients and cooking methods. Thanks to her training at San Francisco Wine School, Nu-Beer now runs the wine program at M.Y. China, working with wineries to select all the wines for the menu to pair best with the food. She says they serve a lot of white wine because of the flavor elements of Chinese food. Many dishes are spicy, so she is always on the lookout for white wines that are balanced with a touch sweetness. She loves certain rieslings from Washington and Germany for this. "Asian food has a lot of ingredients," advises Nu-Beer, "When picking a wine for a dish, it's not just about meat and fish, but including sauce as well when you think about wine pairing. It's a major component."
It's not always easy. Nu-Beer says the challenge is that many guests don't think Chinese food should pair with wine. "I bring them tastes of different things to get them interested," she says. Nu-beer helps train the staff as well, helping them to understand the differences between wines and how they best pair with the food on the menu. She attributes her ability and growth in the industry to her time with the wine school. "If people want to do what I'm doing, I definitely recommend they take a program at San Francisco Wine School," she advises.
With Somm Essentials, Certified Specialist of Wine, and Advanced Tasting under her belt, she plans to continue her studies this fall with French Wine Scholar.
"France is the beginning of the wine industry and wine knowledge. Every wine book talks about French wine, so I have to know about it. If anyone in the industry wants to be better they should know French wine."
In her spare time, Nu-Beer consults with Thai restaurants to help them select the right wines to pair best with their food. She aspires to become a Wine Director in the near future and she plans to continue her wine studies with San Francisco Wine School to get there. 
Take French Wine Scholar this fall with Nu-Beer! 
---
Also in Blog
Master Sommelier and founder of San Francisco Wine School David Glancy lives and breathes wine and has taught blind tasting for 20 years. He weighed in on just how accurate Apple TV's Drops of Gold Series really is. You may be surprised.
Roberto's lifetime of experience has captured the notice of many critics and fans alike. In 2006, the Italian Sommelier Association declared Roberto the "best Italian winemaker." In 2009, 'Wine & Spirits' magazine declared Roberto's winemaking project in Argentina the "best winery in the world". In 2013, 'Wine & Spirits' similarly declared their Malbec the "best Malbec in the world."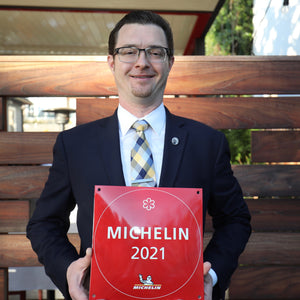 Paul Carayas is a Certified Sommelier and currently leading the wine Team at Chez TJ in Mountain View and a 2022 competitor in San Francisco Wine School's 2022 Somm Olympics, part of their annual Anniversary Celebration benefitting the Glancy Wine Education Foundation.