Meet Javier Zaccagnini - Spanish Viticulturist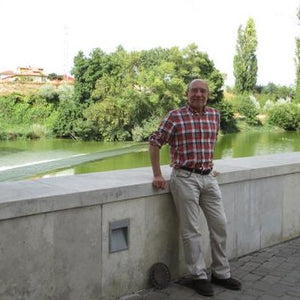 by David Furer
Upon leaving auto-related businesses, 
Javier
Zaccagnini
's career has careened through some of the more savory developments in Spain, and mostly in Ribera del Duero. The Valladolid resident had the good fortune in the 1990s to help steer the region through a period of unprecedented growth in both the number of vineyards & wineries and by spearheading the marketing & promotions of its Consejo Regulador. From there he seized the opportunity to return to the private sector in partnering with the former winemaker for Vega Sicilia to fashion a dramatically new RdD operation, Bodegas AALTO. While staying with Aalto, after some time he ventured into and left the novel Ossian project in Rueda, though now maintains his sights fully on RdD with a new side project or two fermenting there. Joining he and his partners recently has been his son, Michael, who also joined us for lunch at my favorite of the region's many fine restaurants, Quintanilla de Onésimo's Posada Fuente de la Aceña.
Your daily work began outside of wine; what led you to wine, and why?
Well, it must have been my genes! My Spanish great-grandparents were Sherry producers (Bodegas A & A Sancho) and my French great-grandparents were Cognac producers (Favraud) but both families lost their businesses and the following two generations didn't care for wine. My parents didn't drink at all. As a consequence I grew up with no wine on the table and until I was 29 years of age I hadn't even tasted it! I studied Industrial Engineering, a few years later received an MBA, and was happily directing two industrial companies when I realized I only did it for money but had no pleasure in my work. I then took a sabbatical year at the end of which I had decided to work in the wine industry as by then I had become a wine enthusiast and imagined it would be lovely to work with vineyards and wine. Once I started I knew there was no way back.
When leading the Ribera del Duero Consejo Regulador what challenges did you face in its 'new beginning', and to what do you attribute your successes? 


It wasn't 'my' successes but the region's successes. Ribera del Duero is a truly great wine region and at the beginning of the '90s, when I started directing the Consejo Regulador, it wasn't very well known but the quality was already there—it was simply a matter of traveling the world to let everybody know. There was also, at the time, a clear need for better internal organization, but that was simply a question of applying typical and well-known business tools that anyone would have done. Really the fast progression of the Ribera del Duero in those years was a team job and not a very difficult one.
Since you left that position are you satisfied with the Consejo's response to the widely expanding wine world? If not, what else would you advise be, or not be, done? 


The concept of Denominacion de Origen is correct and therefore the Consejo Regulador is a very useful tool within a wine region, both to encourage quality procedures and to ensure that the true character of the region is reflected upon its wines. But unfortunately these Control Boards—and here I'm speaking in general terms, and not only in Spain—haven't evolved enough over the years and are today a little behind the times and needing a thorough revision.
With its overwhelming success in Rioja and your region of Ribera why is it that Tempranillo, Spain's signature red wine grape, hasn't caught on elsewhere as has France's notable grapes from Bordeaux, Burgundy, and others?
I am surprised, as you are, that Tempranillo hasn't (yet!) become one of the world's favorite red grapes along with the infamous and ubiquitous Cabernet Sauvignon, Merlot, and Syrah. Maybe the reason is that it doesn't thrive on every soil; it is very finicky in that respect, seeming to give superb quality, balance and complexity only in Spain. Many efforts have been performed—from Hawkes Bay in New Zealand to Madiran in the south of France, in Argentina and California in the Americas, but with irregular results so far. This strange, local exclusivity I see as both a disadvantage and an opportunity for future world success.
When Aalto was established there were small number of noted producers nearby. How does Aalto differ from its esteemed neighbors? What is done in its viticulture and vinification that set it apart from what now are many local competitors? 


When Mariano Garcia and I got together in 1999 and decided join our expertise to start a new bodega, we had this in mind: 100% Tempranillo, as it is in our opinion, the only grape variety that gives consistent results of quality in our region with 100% old vines of at least 40 years age, because old vines can cope brilliantly with the difficulties of Ribera del Duero offering year in, year out superbly concentrated and balanced berries. The only drawback is a very low yield, less than 4kg/ha (25hl/ha), but that has never worried us.


And, most important, we aimed at finding vineyards in as many different villages of Ribera del Duero as possible, currently sourcing grapes from nine villages…and counting…because there are great variations of soils and micro-climates within different villages of the region, and also great variations of old Tempranillo clones. By harvesting and fermenting separately, then aging in oak separately the grapes from every village, we get many interesting variations of Tempranillos that we blend together at the end of the oak aging period between 20-24 months to get a very balanced and complex wine.


Why not a signature quality white grape for Ribera? What's holding that back, and what may occur to change this?  


Very interesting question! Ribera del Duero has been for many years, and still is, a red wine region with only rosés and reds allowed under to be labeled Ribera del Duero. There are a few white grape varieties that are traditionally grown here but they have never produced any interesting results, at least not at the high level held by the reds. But the soils and climatic conditions of the Ribera del Duero, along with its altitude of up to 950 meters make it a good candidate for outstanding whites. How shall we achieve it? By planting different white varieties other than the traditional ones.
Aalto isn't available in every US market and, even then, isn't an 'entry-level' example of Ribera appropriately-priced for a typical wine poured by the glass. What should the US sommelier with a limited list consider in selecting what may be their only Ribera?   


AALTO wines aren't a logical fit for a typical glass pour, and we're very pleased to be found only in select restaurants. Our limited production make it impossible to be present in every US market. Besides, we export to 62 countries and therefore cannot send as many cases to the US as we would love to do. 'Exclusive' should be the key word that a US sommelier can transmit to his clients when selecting or recommending AALTO.
When pouring Aalto in the US, without mentioning exactly where it was, what have been your favorite food pairings with it? 


Both AALTO and AALTO PS are very structured and powerful, pairing well with game such as wild boar and venison, and mature cheeses.
You've a love of music; how has that impacted the development of your wines? 


I feel the same passion for music as I have for wine, but I do not see any influence in one another. I do not believe in playing music to the vineyards or to the barrels! If I have to search for an influence of music in my wines I would have to say that music has tremendously influenced and modeled my character and my way to understand life, and that is also reflected, necessarily, in my approach to wine. And, when seven years ago, out of my own 3 hectares of very old vineyards in La Horra, I decided to start my personal wine project, giving it a musical name, SEI SOLO, in tribute to my favorite musician of Johann Sebastian Bach. SEI SOLO are the first two words of the musical score of the six masterpieces for solo violin he composed in 1720. 


If you weren't so dedicated to your native country and had to choose one New and one other Old World region in which to grow & make wine, which would those be? ​ 


Like any winemaker I would love to be able to make wine everywhere! Every wine region in the world has its secrets to discover and its challenges to meet.  But if you make me name just two, I would love to work in Burgundy and in Central Otago.