SAN FRANCISCO WINE SCHOOL ANNIVERSARY CELEBRATION BENEFITS NEW GLANCY WINE EDUCATION FOUNDATION SATURDAY, NOVEMBER 14th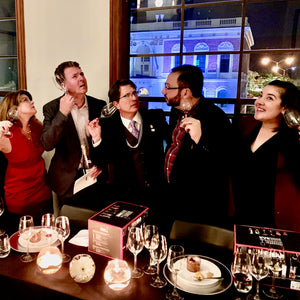 Blind Tasting Competition | Trivia Challenge | Decanting Race | Silent Auction
South San Francisco, California (October 14, 2020)  On Saturday, November 14th from 6-8 pm, San Francisco Wine School invites the public to join their Anniversary Celebration and Scholarship Auction benefiting the newly formed Glancy Wine Education Foundation, which provides financial aid to low income and minority wine & hospitality professionals. 
Co-Owners of San Francisco Wine School, Master Sommelier David Glancy and Chief Operating Officer Kristin Campbell, have made it their mission to open up the world of wine to professionals and serious enthusiasts everywhere and in doing so have created the largest wine school in the country. For San Francisco Wine School, the 2020 Anniversary Celebration marks its ninth year of operation, the fifth year of their gorgeous Wine Education and Event Center, and countless stories of success and growth from current and past students.
This year's Anniversary Celebration will be hosted live online and feature San Francisco Wine School's ever popular Somm Olympics with unique wines from around the world. A silent auction full of extraordinary wine items and experiences is also available to all attendees. Guests will have a ball watching today's top sommeliers go head to head in the light-hearted Blind Tasting Competition, Wine Trivia Challenge, and Riedel Serpentine Decanter Race as they sip right alongside the contestants with their own Wine Tasting Party Kit - available for delivery in 43 states. 
All proceeds from this exciting event will benefit the Glancy Wine Education Foundation.  This newly formed nonprofit organization is dedicated to assisting disadvantaged and minority communities with scholarships to further their professional wine education in the hopes of increasing diversity and raising earning power.    
"We were shocked by the level of need we found in our professional community when we started San Francisco Wine School nearly a decade ago.  With the arrival of the COVID-19 pandemic, that need has increased to unimaginable levels.  Our last survey revealed that over half of our professional students are currently unemployed or underemployed. We are so happy to join the Glancy Wine Education Foundation to help these dedicated and deserving students invest in their education during these trying times." says Kristin Campbell, Chief Operating Officer of San Francisco Wine School. 
To date, San Francisco Wine School Anniversary events have provided 50 scholarships totaling over $130,000 in tuition support to their students in need.  97% of applicants earn less than the "living wage" benchmarks.
This important event is presented by Ron Rubin Winery and California Wines & Vineyards with generous sponsorship from Cardinale, Oliver McCrum Wine & Spirits, Hindsight Winery, and Bottle Cru Incorporated. More information and tickets can be found at: www.sfwineschool.com/anniversary
🍷🍷🍷
ABOUT SAN FRANCISCO WINE SCHOOL
 
San Francisco Wine School strives to open up the world of wine to serious students and enthusiasts everywhere while helping people of all levels break into the wine industry, advance their career, or simply pursue their passions. Founded by Master Sommelier and Certified Wine Educator David Glancy, San Francisco Wine School is the largest wine school in the U.S., offering the most thoughtful approach to wine study.  Their inspired educational programs and workshops are taught in their state-of-the-art Wine Education and Events Center and their cutting-edge virtual classroom by industry-leading instructors from all major educational disciplines.  
San Francisco Wine School's curriculum features the best content in the business: expert course materials, carefully conceived wine flights, and in-depth blind tasting exercises designed to engage students, illuminate course content and enhance learning.  Their beautiful sunlight-filled Wine Education and Event Center is conveniently located just 5 minutes from San Francisco International Airport.  Located inside South San Francisco's historic Town Social Hall, the contemporary design boasts 16 ft coved ceilings, 12 ft arched windows throughout, and 180-degree views of the San Bruno Mountains, City Hall and the San Francisco Bay.  It's the perfect place to enjoy classes, industry seminars, tastings and a wide variety of private experiences.  During COVID-19, live online classes are also being conducted with custom tasting kits available for delivery in 43 states.
ABOUT GLANCY WINE EDUCATION FOUNDATION
The Glancy Wine Education Foundation was established in 2020 to continue the wine education scholarship and fundraising work initiated by the San Francisco Wine School in 2016 through the Glancy Wine Education Fund at Scholarship America.  This nine-member volunteer board is dedicated to providing scholarships to students wanting to start or advance a career in the wine or hospitality industry using certifications offered at San Francisco Wine School.  Awards are based upon financial hardship, economic need, and career and educational goals.  The Glancy Wine Education Foundation is a not-for-profit organization that has applied for tax exempt status under Section 501(c)(3) of the Internal Revenue Code.