San Francisco Wine School's Anniversary Celebration Raises Record Breaking Amount for Struggling Wine Professionals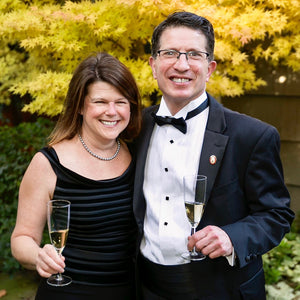 New Glancy Wine Education Foundation to Provide over $160k in Scholarships 
South San Francisco, California (November 18, 2020)  On Saturday, November 14th, San Francisco Wine School (SFWS) celebrated 9 years in business with their annual Somm Olympics and Scholarship Auction benefiting the Glancy Wine Education Foundation (GWEF), a newly formed nonprofit organization led by Cheryl Halloran that provides scholarships to low income and minority wine & hospitality professionals. 
Co-Owners of San Francisco Wine School, Master Sommelier David Glancy and Chief Operating Officer Kristin Campbell, hosted this live virtual event featuring their ever popular Somm Olympics and a silent auction full of unique wines and experiences including a private dinner and cooking classes with Celebrity Chef Martin Yan and a 70 bottle wine cellar filled with selections from SFWS and GWEF board members.   Competitors included Advanced Sommeliers Angie An, Jienna Basaldu, Beki Miller, and Wendy Shoemaker.  All guests received custom wine tasting kits so they could participate alongside the competitors.  
Wendy Shoemaker edged out Beki Miller in the final question of Wine Jeopardy – What is the Indigenous Red Grape of Utiel-Requena? (Answer: What is Bobal?), Beki came back for a win in the Blind Tasting Competition, and Wendy easily won the Riedel Serpentine Decanter Race – the only sommelier with a broken thumb and a screw cap!  All events were lighthearted, entertaining and very close!
The event also featured GWEF board member Peggy Cramer, who spoke of its mission and her own personal experience with wine elitism and how that inspired her to join the cause.    The event also showcased two-time scholarship recipient, Jin Zhang, who shared her personal story of pivoting from a line cook in some of SF's best restaurants to wine retail and how her education has helped her stay focused during the pandemic and even find her first wine job.  Hear her story at https://youtu.be/dGR82kAeQyI
Pre-Event outdoor gatherings were held to celebrate in small in-person groups at the homes of Kristin Campbell in Menlo Park and SFWS advisor & COO Meritech Capital, Joel Backman, in Forest Hill of San Francisco.  Guests enjoyed Gaston Chiquet Champagne, Riedel Serpentine Decanter demonstrations, and even some trampoline time.  Notable guests included Celebrity Chef Martin Yan and Wine Journalist and Vinography Founder, Alder Yarrow.
Proceeds from this memorable event soared past prior years and benefitted the Glancy Wine Education Foundation who has pledged to provide over $160,000 in wine education scholarships to disadvantaged and minority communities in hopes of increasing diversity and raising earning power in the wine industry.   
"The average hospitality professional still struggles to make a living wage. We believe wine education is a powerful way to change those prospects," says Cheryl Halloran, President of the Glancy Wine Education Foundation. "Given the realities of the Coronavirus pandemic and recent wildfires, the need for scholarships has never been greater." 
Applications for scholarships are available now and are being reviewed quarterly.  Wine & hospitality professionals seeking financial aid, may submit applications for consideration for January 2021 programs by November 27th. Learn more and apply at www.glancywineeducationfoundation.org/scholarships
More Photos by Drew Alitzer: https://tinyurl.com/y2a3cg67
🍷🍷🍷 
ABOUT SAN FRANCISCO WINE SCHOOL
San Francisco Wine School strives to open up the world of wine to serious students and enthusiasts everywhere while helping people of all levels break into the wine industry, advance their career, or simply pursue their passions. Founded by Master Sommelier and Certified Wine Educator David Glancy, San Francisco Wine School is the largest wine school in the U.S., offering the most thoughtful approach to wine study.  Their inspired educational programs and workshops are taught in their state-of-the-art Wine Education and Events Center and their cutting-edge virtual classroom by industry-leading instructors from all major educational disciplines.  San Francisco Wine School's curriculum features the best content in the business: expert course materials, carefully conceived wine flights, and in-depth blind tasting exercises designed to engage students, illuminate course content and enhance learning.  
Their beautiful sunlight-filled Wine Education and Event Center is conveniently located just 5 minutes from San Francisco International Airport.  Located inside South San Francisco's historic Town Social Hall, the contemporary design boasts 16 ft coved ceilings, 12 ft arched windows throughout, and 180-degree views of the San Bruno Mountains, City Hall and the San Francisco Bay.  It's the perfect place to enjoy classes, industry seminars, tastings and a wide variety of private experiences.  During COVID-19, live online classes are also being conducted with custom tasting kits available for delivery in 43 states.  Learn more at www.sfwineschool.com
ABOUT GLANCY WINE EDUCATION FOUNDATION
The Glancy Wine Education Foundation was established in 2020 to continue the wine education scholarship and fundraising work initiated by the San Francisco Wine School in 2016 through the Glancy Wine Education Fund at Scholarship America.  This ten-member volunteer board is dedicated to providing scholarships to students wanting to start or advance a career in the wine or hospitality industry using certifications offered at San Francisco Wine School.  Awards are based on economic need, professional commitment and planned enrollment.  The Glancy Wine Education Foundation is a not-for-profit organization that has qualified for tax exempt status under Section 501(c)(3) of the Internal Revenue Code.  Learn more at www.glancywineeducationfoundation.org