Two Days in Alto Adige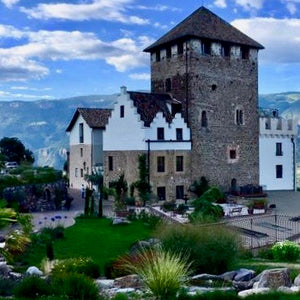 Master Sommelier David Glancy traveled to Alto Adige after hosting a wine education cruise on the Mediterranean Sea during the summer of 2019.  He describes some of his adventures below.

Long have I dreamed of exploring Sudtirol (Southern Tyrolian Mountains) aka Alto Adige. We finally got the chance by adding 2 days to the end of our SF Wine School Mediterranean Cruise. When we got off the Azamara Quest in Venice on July 16 we went straight to the airport to get our rental car (a Fiat, of course). 1.5 hours drive west and we were lunching in Valpolicella and touring dal Forno Romano (more later) and then another 1.5 hours north through awe-inspiring mountains and we reached Bozen/Balzano. This was my first lesson that everything and everywhere in Alto Adige/Sudtirol has two names, in German and Italian, as 70% of the population speaks German. Then we had an exhilarating short drive (see the video) to Appiano and climbed through twists and turns to the hilltop castle that we called home for two nights, Schloss Korb (pictured above). My suite was previously occupied by shipping magnate Aristotle Onassis before he married Jackie O. Next was a lovely dinner with Thomas Augschoell from IDM Suddtirol, the marketing agency for the wines of Alto Adige. He prepped us for our 2 days of driving (& getting lost) to 5 wineries with a different focus at each (map below).



The next morning we were off to the races, after going the wrong direction on the Autostrada (toll road), and finally made it to the northernmost portion of Alto Adige, Valle Isarco, only 40 km (25 miles) from the Austrian border. Valle Isarco/Eisacktal in the NE and Val Venosta/Vinschgau in the NW are the two coldest of the seven sub-regions of Alto Adige. Our appointment was at
Cantina Valle Isarco
but don't look for that because the winery sign is only in German "
Eisacktaler Kellerei
". The focus at this medium-sized, high quality co-op is on white wines from Weissburgunder (Pinot Bianco), Kerner, Sylvaner, Gruner Veltliner, Sauvignon, Riesling and Pinot Grigio. Four of the fourteen wines we tasted were made from the Kerner grape and all of them were excellent.
Hannes Munter & Fenja Hinz at Cantina Valle Isarco



Our next stop was back near Bolzano to taste wines with Stephan Filippi, winemaker of Cantina Bolzano (Kellerei Bozen) over lunch at the mountaintop Tschogglberger Hof who opened just for us to make food to match the wines. Although Alto Adige as a whole makes mostly white wine, a red grape Vernatsch (aka Schiava) is the most widely planted and Bozen is where most of the acreage is since it is one of the warmest sub-regions. This valley traps the heat during the day and cold air comes down from the mountains at night causing a large diurnal shift. Our tasting focused on the reds from Lagrein and Schiava, but we also tasted lovely whites including a passito dessert wine from Gold Muskateller. After lunch we toured the brand new winery. In recent years two co-op wineries (St. Magdalena and Gries) combined to form the large but quality driven co-op renamed as Bozen/Bolzano.


Cantina Bolzano


Our third and final stop for the day was Cantina Terlan/Kellerei Terlan, a medium-sized co-op but one of the stars of the region. I have been a fan of their wines for years but had not previously tasted their Terlaner I Grand Cuvee which shocked the region with a retail price of $250 US. It is a Terlaner blend (from Terlan) of Pinot Bianco, Chardonnay and Sauvignon. They also made a statement as to both the quality and ageability of their wines by releasing their Rarities line. The 2005 Rarities Pinot Bianco and their 2015 Terlaner I Grand Cuvee were both spectacular.


Cantina Terlan


After one day of winery visits and two nights in the castle, they kicked us out. We still had two wineries left to visit here and off we charged at the crack of 10am. We drove south to the Uberetsch/Oltradige sub-region and Manincor Estate/Weingut/Tenuat Manincor on Lake Caldaro/Kaltern. It was a little intimidating meeting Count Manincor but he was a delightful and gracious host. This was the only estate winery we visited and it was also biodynamic. Count Michael never felt like Demeter certification was a fit so he helped launch Respekt certification which in many ways is more stringent (see photo). He grows and produces most of his biodynamic preparations on the property and even uses oak from his own forest for his barrels. He had just had significant hail damage but showed us how the vines were recovering and credited the biodiversity and living soil. All of the wines were delicious but I was particularly taken by "Cassiano" a proprietary blend of Merlot, Cabernet Franc, Syrah, Petit Verdot, Cabernet Sauvignon and Tempranillo. Manincor means heart in hand and we definitely left our hearts there. Fortunately our next stop was lunch and only about 1 mile away at Seehotel Ambach and our best meal anywhere in Italy.




Our fifth winery in 2 days was further south in Unterland/Bassa Atesina in the village of Tramin at Cantina Tramin. Though there is conflicting evidence if the origin of Gewurztraminer is here, in Alsace or the Jura of France, the grape is definitely the heart of this large co-op winery. We were stunned by their dry Nussbaumer Gewurztraminer at 15% alcohol and their proprietary white blend Stoan Bianco 2005 which was a Chardonnay, Weissburgunder, Gewurztraminer, Sauvignon blend. The real surprise was finishing our visit to Alto Adige with a style that is no longer common to the region but a nod to the past, a Spatlese Gewurztraminer. This was only a piece of the story though as the 2010 "Epokale" was aged for 7 years 4 km/2.5 miles deep in the Ridanna Monteneve mine, at over 6,500 feet of altitude. An amazing story and amazing wine justify the $130 retail price.

The beauty, diversity and quality of the wines of Alto Adige was so impressive. It is part of Italy but it is unique and autonomous. Here the mountains speak German and whisper Italian. Spectacular land makes spectacular wines and I will personally do my part to increase USA market share of them.



If you are curious about Italy's famous wine regions, consider our many workshops on Italy.  If you want to dive more deeply into the subject, try our Italian Wine programs available both in person and online.
Check out our full schedule of programs, workshops and public events. Private, customized experiences and corporate training is also available.