Top 10 Funniest Wine, Food & Service Videos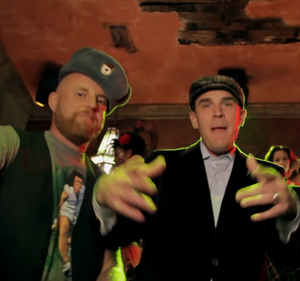 I feel the need for something light hearted today. In fact, I use humor every time I teach about wine. Here are some of my favorites to inspire, instruct, shock or simply amuse.
I love so many of the original cocktails being created these days, the return of classic but forgotten drinks and who wouldn't appreciate fresh bar mixers but this video lampooning bartenders (oops, mixologists) is hilarious. Best moments for me include bartender waxing his moustache, a single giant ice cube, chicken feet garnish, ice carving and the drink names "Chewbaca's Jacuzzi" and "Moist Yoga Mat".
#2   Whole Foods Parking Lot


From the same crew that made #1, Fog and Smog brings it again raging against organic food stores and the people who shop (& park) there. My favorite rap sequence is:
"Then I take it to the cheese counter – Humboldt Fog"
"We just ran out, sir."
 "Really, dog?"
#3   Paso Wine Man

Not only was this very funny, it was very effective marketing for the festival, the region and one category of the region's wines. My favorite line is "This is Crljenak Kaštelanski, Croatian wine. Did I pronounce it correctly? Who cares."
#4   Sommelier Starts a Winery

Anyone thinking of starting a winery needs to watch this and take it seriously. Anyone who already opened a winery should watch this for therapy, alternating between laughing and crying. Greg Harrington seems pretty happy to me in real life and obviously has a sense of humor about his family's trade offs in moving from NYC to Walla Walla. My favorite lines were: "Winemaking is 49% cleaning shit, 49% moving heavy shit around and 2% drinking beer." And "Will we micro-ox the crap out of our wines?".
#5   Soaking the Corks

Okay, this has very little to do with real wine but I have heard wine people tell unknowledgeable tourists some tall tales. I doubt any tour group could be remotely this gullible, but it's a good laugh anyway.
#6   Hail Cork Master!

The blind tasting scene was great, especially their noisy aeration of the wine in their mouths. Better yet, was the inauguration song, "Hail to the cork master, the master of the cork. He knows which wines goes with fish and pork.".
#7 Four Loko Vineyards from Don Johnson

He had me at his straight-faced delivery of, "Ever since my great-grandfather, Jena Carlo Fourloko came to this country". Wait til you hear about their source for guarana plants & taurine for their "sophisticated beverage". This is an exclusive from Funny or Die.

#8   True Tales from the Wine Store 2

I have definitely sold wine to this customer before and can't decide whether to laugh or scream in anguish. My favorite lines are: "I see, you like the dry wines with sugar in them." And "this one scored 95 points in the new Wine Pooper magazine".
#9   Second Cheapest Wine

I wonder if a product marketed this honestly this would actually sell.
#10   Bombe Surprise

In James Bond Diamonds Are Forever, the lesson is that you must know that Mouton Rothschild is a claret or you will be killed.
I have a few other favorites that I could not find including a Benny Hill video where he is a waiter and changes the label on a bottle to fool his bald diner and a stop animation video of bottles dancing in a night club. Hopefully some of these are new to you and give you a chuckle or two.
Which of these was your favorite? Do you have other favorite wine, food or service videos?
Check back here to post or read follow-up comments and to check out our next blog post. See our upcoming schedule of French Wine Scholar classes, California Wine Appellation Specialist classes and seminars.
Check out our full schedule of programs, workshops and public events. Private, customized experiences and corporate training is also available.