Prosecco, Supermodels and Big Bikes, Oh My!
I have never given even a moment's thought to going to a motorcycle race. That is, until I was enticed by an invitation to hang out in the VIP/Media Lounge drinking Prosecco all day at Laguna Seca Racetrack in Monterey County on September 29. In May of this year Consorzio di tutela del Prosecco DOC became an official sponsor of the Super Bike World Championship (SBK). NASCAR and cheap beer or Super Bikes and Italian sparkling wine. Hmn, I'll go with door #2. Oops, I forgot to mention the models in small, shiny dresses with the Prosecco logo on them. Yes, I was looking at the logo. Shame on you for thinking otherwise. One of the previous beverage sponsors of SBK was Conrona beer.  Talk about an upgrade!
Prosecco DOC taking on the sponsorship is a great marketing move. Conegliano Valdobbiadene Prosecco DOCG and Colli Asolani (Asolo Prosecco) DOCG are positioned as premier sparkling wine appellations from the Prosecco grape (aka Glera) and the named single villages. The Prosecco DOC production area is located in northeast Italy, more precisely in the territories of 5 Veneto provinces (Treviso, Venice, Vicenza, Padua, Belluno) and 4 provinces in Friuli Venezia Giulia (Gorizia, Pordenone, Trieste and Udine), one of the most stunning areas in the Italian peninsula.  It is more generic than the 2 Prosecco DOCG above which are from smaller, more specific origins. Positioning Prosecco DOC as a good quality, good value, simple, everyday drinking sparkling wine, even at the races, should position the wines for sales growth. Mionetto USA provided the wines at Laguna Seca and they were crisp, clean and refreshing. Mionetto has three different lines of sparkling wines from Italy. They served their Prosecco DOC which is distributed throughout the United States at an average retail price of $12
I only saw race 2 for this stop in the tour and it was also surprisingly fun to watch with major drama of Great Britain's Tom Sykes, leading for 21 laps but eventually falling to 4th place. Ireland's Eugene Laverty, who had been in 2nd, patiently waited for his chance and made his pass at lap 25 to win the 26-lap race. 2nd and 3rd place were taken by Italian teammates Davide Giugliano and Marco Melandri. There may have been beer guzzling or spraying each other with Prosecco in the crowd somewhere, but on the podium the top 3 finishers toasted each other, thanked the fans and sipped their Prosecco from glasses. Just another day at the race track. For more actual race details and photos, check out Susannah Gold's blog.
The next stop in the SBK World Championships 2013 Tour was Magny-Cours, France on October 6. The final race of the year is October 20 in Jerez, Spain and tickets are still available. I am waiting for my invitation with airfare included as I feel I need to know if Prosecco tastes equally good in the Jerez sunshine.
What are your thoughts? Should they spray it or drink it? Are the new DOC and DOCG for Prosecco confusing? How does Prosecco compare to other sparkling wines of Italy and the rest of the world?
Discover through a guided tasting how Champagne and other Sparkling Wines varies based on climate, soils and traditions through our Champagne and other Sparkling Wines of the World Workshop.
Check out our full schedule of programs, workshops and public events. Private, customized experiences and corporate training is also available.
---
Also in Blog
Master Sommelier and founder of San Francisco Wine School David Glancy lives and breathes wine and has taught blind tasting for 20 years. He weighed in on just how accurate Apple TV's Drops of Gold Series really is. You may be surprised.
Roberto's lifetime of experience has captured the notice of many critics and fans alike. In 2006, the Italian Sommelier Association declared Roberto the "best Italian winemaker." In 2009, 'Wine & Spirits' magazine declared Roberto's winemaking project in Argentina the "best winery in the world". In 2013, 'Wine & Spirits' similarly declared their Malbec the "best Malbec in the world."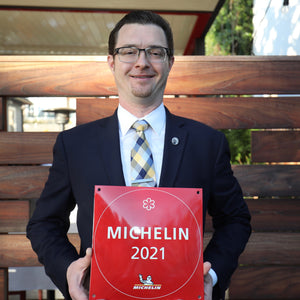 Paul Carayas is a Certified Sommelier and currently leading the wine Team at Chez TJ in Mountain View and a 2022 competitor in San Francisco Wine School's 2022 Somm Olympics, part of their annual Anniversary Celebration benefitting the Glancy Wine Education Foundation.