Hoping for Heat After Cold, Wet Start to 2012 in the Loire Valley
2012 Early Vintage Report
Residing in France for the past four months has been an amazing, enlightening experience. Plenty of traveling, both in and out of France, has enriched my life in ways I never thought possible. My one complaint, if you will indulge me, has been the weather.
The season started out with a warm spell in late February into March; all signs pointed to it being a very warm year. Then, as suddenly as it arrived, blustery rain and cold wind beat the sun back and dug in its heels. What followed was a dreary April, May, and June, marked by copious amounts of rainfall and unseasonable cold. The unceasing deluge of rain during flowering catalyzed coulure in many vineyards, causing poor flowering and diminished quantity as a result. Further, many vines are suffering from millerandange, or uneven fruit set, further reducing this year's crop. Marginal climates throughout France are affected; from Muscadet to Margaux, from Champagne to Chablis, winegrowers everywhere must be exceptionally diligent.
Framed within the context of viticulture, one often hears global warming expressed as Le Bon Probleme; the increasing frequency of warm years and the ability to achieve optimum ripeness are regarded as the silver lining to the urgent problem of climate change. Most winemakers I have discussed this issue with, however, see climate change as a probleme that is anything but bon.  More erratic and extreme weather patterns tend to accompany these warming trends–this year being an example. While it is certainly satisfying to consistently ripen Pinot Noir in the Valle de la Marne, most would gladly trade this phenomenon for a planet in equilibrium.

This is all to say weather still matters. Of course it's much too soon to attempt to form a complete picture of the season or its final wines. The 2012 vintage in France will certainly be lower in quantity but given a warm, relatively dry period for the next few months may produce wines marked by freshness, lower alcohol levels, and above all representative of its provenance.
What impact have you seen to wine from climate change? Do you have similar news from other regions of the world? Has the Loire gotten warm and dry at the end of summer?
Check out our full schedule of programs, workshops and public events. Private, customized experiences and corporate training is also available.
by Zach Pace, DWS, CWE, FWS
Instructor, San Francisco Wine School
written while traveling in France for 6 months
former Wine Director, Foreign Cinema
current Associate, APS Wine & Spirits, Oakland, CA
---
Also in Blog
Master Sommelier and founder of San Francisco Wine School David Glancy lives and breathes wine and has taught blind tasting for 20 years. He weighed in on just how accurate Apple TV's Drops of Gold Series really is. You may be surprised.
Roberto's lifetime of experience has captured the notice of many critics and fans alike. In 2006, the Italian Sommelier Association declared Roberto the "best Italian winemaker." In 2009, 'Wine & Spirits' magazine declared Roberto's winemaking project in Argentina the "best winery in the world". In 2013, 'Wine & Spirits' similarly declared their Malbec the "best Malbec in the world."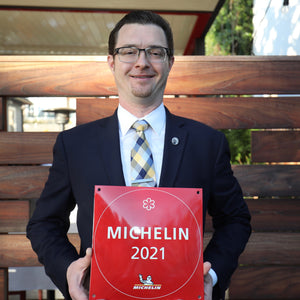 Paul Carayas is a Certified Sommelier and currently leading the wine Team at Chez TJ in Mountain View and a 2022 competitor in San Francisco Wine School's 2022 Somm Olympics, part of their annual Anniversary Celebration benefitting the Glancy Wine Education Foundation.