Champagne Bureau Tasting – San Francisco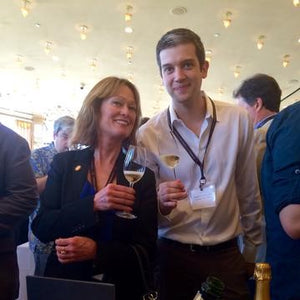 Quentin Paillard of Pierre Paillard Champagne with Master Sommelier Catherine Fallis of Planet Grape

The Champagne Bureau's annual trade tasting took place October 21, 2014 at the Westin St. Francis in San Francisco's Union Square. With 37 brands represented, it was important to get there early and taste quickly as an hour in the room was packed and the noise level was like that of a cocktail party.
Here are some of my top picks:

Pierre Paillard Bouzy Rosé Brut Grand Cru nv $72 This old-vine blend of Chardonnay, Pinot Noir and Bouzy Rouge is hauntingly intense, minerally, smoky, and very serious with notes of rose petal, ginger, sea shell, Hostess Sno Ball cake, and salt water taffy. It is represented in California by DNS Wines. Brothers Antoine and Quentin Paillard, whose father is the cousin of Bruno Paillard, represent the 8th generation of this family-run business.

Champagne Collet Esprit Couture Brut Ay nv $120 Handcrafted from vineyard to packaging, this feminine cuvee has notes of vanilla bean, peach, rose petal, and chalk. It is delicate, ethereal almost on the palate. This is newly available in selected markets in the USA – in California it is represented by Alluvial.

2004 Champagne Bruno Paillard Blanc de Blancs Reims $90 Rich, bone dry, lemony, minerally and yeasty, this elegant Champagne from a classic vintage delivers the Bruno Paillard signature: "purity, substance, minerality, and elegance." Bruno is grooming his daughter Alice to be the next CEO.

2004 Champagne Delamotte Blanc de Blancs Grand Cru Le Mesnil-sur-Oger $90 This "Baby Salon" is a 100% Grand Cru Chardonnay from Le Mesnil, whose sister winery just happens to be Salon. For a fraction of the price of Salon, and without waiting for years for the wine to soften, this beauty is just the ticket. It has notes of lemon curd, rising bread, chalk and honey and is delicate and fine on the palate.

2005 Champagne Taittinger Comtes de Champagne Blanc de Blancs Brut $225 Aged on the lees for 10 years before release, this 100% Chardonnay from the Cote des Blancs is as rich and decadent as they come – think pumpkin bread and honey-coated brioche and fruit cake.

What is your favorite experience with Champagne? Would you like to come to a Champagne Workshop at SF Wine School?
Check out our full schedule of programs, workshops and public events. Private, customized experiences and corporate training is also available.
Explore more champagnes and other sparkling wines in our Champagne and other Sparkling Wines of the World Workshop.
---
Also in Blog
On Saturday, November 11, 2023 from 3:30-8pm, San Francisco Wine School invites the public to join their 12th Anniversary Celebration and Scholarship Auction featuring their signature Somm Olympics, a Global Wine Tasting Bazaar with a plentitude of international and upscale fare, plus a Silent Auction full of unique wine items and experiences, all benefiting the Glancy Wine Education Foundation.  Learn more about the event...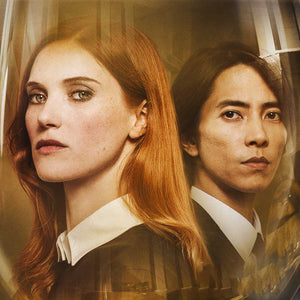 Master Sommelier and founder of San Francisco Wine School David Glancy lives and breathes wine and has taught blind tasting for 20 years. He weighed in on just how accurate Apple TV's Drops of Gold Series really is. You may be surprised.
Roberto's lifetime of experience has captured the notice of many critics and fans alike. In 2006, the Italian Sommelier Association declared Roberto the "best Italian winemaker." In 2009, 'Wine & Spirits' magazine declared Roberto's winemaking project in Argentina the "best winery in the world". In 2013, 'Wine & Spirits' similarly declared their Malbec the "best Malbec in the world."