Thinking Outside the Bottle
For more than 200 years, wine bottles have enabled easy transport, long-term cellaring and convenient service. Consumer and on-premise needs have evolved though. New technologies such as keg-on-tap wine, which address these requirements, are rising in popularity.
Keg-on-tap wine systems can bring several benefits:
They let servers fill glasses very quickly, crucial in high-volume venues.
The last glass from a keg is as fresh as the first, because inert gas is injected to keep oxygen away from the wine.
Less wine is wasted since there won't be 1.5 ounces of wine left in bottles after 6 ounce pours.
Keg wine is never corked.
Kegs can vastly reducing the amount of glass that need be manufactured, shipped and then recycled or dumped into landfill.
Decreased bottle count cuts garbage collection fees.
In some cases, a restaurant's cost-of-goods for a glass of wine will be lower with kegs.
I recently visited Free Flow Wines in Napa. They have more than 200 brands of wine in keg, among them consumer favorites such as Jackson Family Wines and Gallo, classics like Au Bon Climat and Charles Krug, and new critical favorites including Ant Farm Wines, Matthiasson and Tatomer. Free Flow currently serves 43 states.

 "Wine on tap in stainless steel kegs is all about quality. It's a superior glass of wine," says Jordan Kivelstadt, Founder and CEO of Free Flow Wines. "The wine's served at the perfect temperature and is never oxidized." I tried several wines out of tank myself and found them all to be sound and showing well.

Each Free Flow stainless steel tank is equivalent to 26 bottles of wine. The company manages initial fill and shipment of the kegs as well as the return, 14-stage sanitizing process and re-filling of empties. Free Flow works with more than 100 distributors nationwide.

In addition to Free Flow's attention to wine quality, ecology is a key focus. The company claims that, since its founding in 2009, its kegs have kept 3.5 million bottles out of landfills. The Coliseum at Caesar's Palace got rid of bottles entirely two-and-a-half years ago. That move alone has eliminated 4.5 tons of bottle waste per year. Free Flow's "kegging" facility also includes an advanced and unique water purification system that allows them to continually re-use virtually 100% of their water.

Keg-on-tap can also make financial sense for restaurants, bars and stadiums. Most see a 1 to 3 cents-per-ounce savings when opting for keg vs. bottle for the same wine. They can also virtually eliminate the 8–15% losses on wine from spoilage and waste, including leftovers in bottle after four 6-ounce pours. According to Kivelstadt, most restaurants recapture the cost of the system in 6 - 9 months.
Photo Credit: Free Flow Wines
Enhance your wine management knowledge further through our Wine Program Management.
Check out our full schedule of programs, workshops and public events. Private, customized experiences and corporate training is also available.
---
Also in Blog
Master Sommelier and founder of San Francisco Wine School David Glancy lives and breathes wine and has taught blind tasting for 20 years. He weighed in on just how accurate Apple TV's Drops of Gold Series really is. You may be surprised.
Roberto's lifetime of experience has captured the notice of many critics and fans alike. In 2006, the Italian Sommelier Association declared Roberto the "best Italian winemaker." In 2009, 'Wine & Spirits' magazine declared Roberto's winemaking project in Argentina the "best winery in the world". In 2013, 'Wine & Spirits' similarly declared their Malbec the "best Malbec in the world."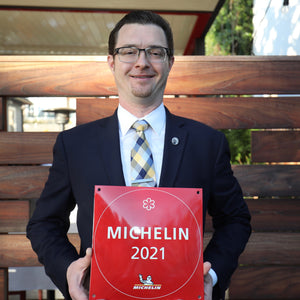 Paul Carayas is a Certified Sommelier and currently leading the wine Team at Chez TJ in Mountain View and a 2022 competitor in San Francisco Wine School's 2022 Somm Olympics, part of their annual Anniversary Celebration benefitting the Glancy Wine Education Foundation.