SAN FRANCISCO WINE SCHOOL STUDENT JENNI BURGESS TAKES THE GOLD MEDAL AT THE 2016 BEST WINE STUDENT OF LA SOIRÉE WINE TASTING COMPETITION!

On November 18, 2016, The French American Chamber of Commerce of San Francisco conducted the finals of the "Best Wine Students of La Soiree" at The Village on Market Street in San Francisco. The competition started with 17 students who went through the elimination round on November 10, at the offices of Wine Business Monthly.

The 4 students finalists were:

o   Anastasia Utkina (UC Davis)
o   Collin Russell (Culinary Institute of America)
o   Jenni Burgess (San Francisco Wine School)
o   Yuri Shima (San Francisco Wine School)


The competitors went through a blind tasting of a white and a red wines. Following the tasting, the students had to answer 3 grape growing, 5 wine making, and 5 marketing questions, plus a tie-breaker question.  After many friendly interruptions by well-wishing La Soiree participants, the results were tabulated and the final ranking is as follows:
o   GOLD medal with 18 points (out of 23 possible – a record!!) – Jenni Burgess 
o   SILVER medal (won the tie breaker question with the Bronze medal winner) - Collin Russell
o   BRONZE medal - Anastasia Utkina
o   4th PLACE winner – Yuri Shima




Congratulations to all 4 finalists - From left to right, Yuri, Anastasia, Jenni, and Collin.

The award ceremony was presided by Louis Zandvliet, Tonnellerie Radoux Vice-President and the generous donor/sponsor of the $1,000, $500, $300, and $100 cash prizes for the finalists. Thank you Louis and Tonnellerie Radoux... 
Thank you to FACCSF for hosting this wonderful event and to all the participants!  


---
Also in Blog
Master Sommelier and founder of San Francisco Wine School David Glancy lives and breathes wine and has taught blind tasting for 20 years. He weighed in on just how accurate Apple TV's Drops of Gold Series really is. You may be surprised.
Roberto's lifetime of experience has captured the notice of many critics and fans alike. In 2006, the Italian Sommelier Association declared Roberto the "best Italian winemaker." In 2009, 'Wine & Spirits' magazine declared Roberto's winemaking project in Argentina the "best winery in the world". In 2013, 'Wine & Spirits' similarly declared their Malbec the "best Malbec in the world."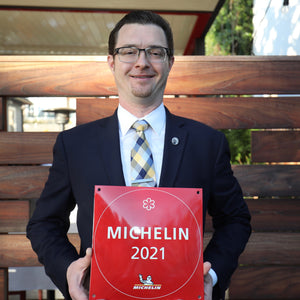 Paul Carayas is a Certified Sommelier and currently leading the wine Team at Chez TJ in Mountain View and a 2022 competitor in San Francisco Wine School's 2022 Somm Olympics, part of their annual Anniversary Celebration benefitting the Glancy Wine Education Foundation.