SFWS Team Retreat in Murphys, CA!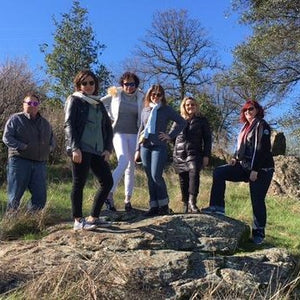 Like all good things, it starts with a biker bar.  Lagorio's in Farmington, CA was the perfect pit-stop for our Friday evening full moon travels up to Murphys, CA last weekend for our San Francisco Wine School staff retreat. Well-vetted by our COO Kristin Campbell after years and years of traveling this route, we knew it would be perfect.  The burgers and beers and margaritas and jukebox and BBQ'd oysters did not disappoint.  The wine list could've used a little bit of help, but don't tell them that came from our mouths... :)


We arrived at the breathtaking vacation home late on Friday night - our minds were blown with views of the moonlit, fog-covered valley from the wrap-around decks.  Fireplace engaged, 36 bottles of wine to choose from, Cards Against Humanity and no bedtime in sight.  What happens in Murphys stays in Murphys!


Saturday morning we slowly rose with coffee and verdant vistas and got our ourselves ready for a day out in the vineyards of Calaveras County!  Kristin pre-arranged a VIP 'off-road' tour with veteran viticulture expert, renegade, wine-lover, and all-around great guy
Stephen Collum
.  A graduate of the Viticulture Program at Fresno State, Collum began his career in wine agriculture managing the vineyards of St. Francis, and then moved on to develop choice properties in Napa and Sonoma for Kendall Jackson.  He decided to relocate to the Sierra Foothills almost 20 years ago and now manages a dozen vineyards in the area, so Collum knows the terroir of the region better than anyone!  (And psst, he's also joining our
CWAS 3-Day Intensive
in March as a special industry guest speaker!!)
                                  Stephen Collum With Instructor and Advanced Somm Gordana Josovic
He took us behind the scenes and into the mud at
Twisted Oak
,
Dalton Ranch
, and
Metate Vineyards
and blew our minds with his expansive knowledge of everything that goes into growing amazing fruit, specific to and expressive of this lesser-known gem of a region.
We learned that Calaveras County has 900 acres of grape vines planted to 36 grape varieties, and that they specialize in diversity.  The following varieties thrive there in the hot, dry summer growing season:
Zinfandel
Syrah, Grenache, Picpoul & other Rhone grapes
Sangiovese, Aglianico, Vermentino & other Italian grapes
Tempranillo & other Spanish grapes
Touriga Nacional & other Portuguese grapes 
Calaveras is home to 25 wineries, most having tasting rooms in the 2-block historic town of Murphys.
Along with sharing his wealth of information, Collum imparted a real love for the region in which he works.  His enthusiasm and unique combination of age-old wisdom and eagerness to innovate in growing grapes was such a treat to witness.  He never tired of our endless questions and we all left the tour with a much better understanding of the viticulture process, from the science behind managing microclimates, soil types, and rootstocks to the creative processes and preferences of the grape-growers and winemakers that synergize into the final product we get to enjoy.
                                                                          David Plays in the Vineyard
We finished the day at
Prospect 772's
tasting room with some delicious Rhone-inspired wines and then headed into downtown Murphys for a glimpse of the charming main street, and of course, some cheese shopping.
                                                             Kristin & Tanya, Ready to Get to Tastin'!
Back at the house we got cozy as our fearless leaders, Kristin & David, got to work to make us an amazing dinner of grilled Rib Eyes smothered in David's Roquefort compound butter, brussels sprouts roasted with baby portabellas, and creamy mashed potatoes with many secret, indulgent ingredients.  (Did you know that Roquefort butter makes EVERYTHING taste better??)  As delicious smells filled the house, we all participated in a 6 bottle blind tasting line-up courtesy of instructor Chris Miller.  Oh, and of course there was sabering.  David does not leave the house without his sword these days.  He did also attempt to pop a bottle with a child's ski.  The stars were not aligned for this particular party trick - I blame the barometric pressure - but luckily no one was harmed in the process! And rest assured, we found our way into that bottle, nonetheless.


Dinner was followed by a surprise birthday cake for David, and then we resumed the late night shenanigans with more wine, more Cards Against Humanity, Cuban rum and cigars courtesy of our Social Media expert Jen, and a line-up of Serbian Eau de Vie courtesy of instructor Gordana Josovic. Don't worry, everything was consumed with much moderation!

What an amazing weekend it was.  We'll certainly be back again soon to enjoy the beauty of the area, the wines of the region, and each other's company.  Thank you to Kristin and David for arranging such a memorable getaway!

See more shots of our trip below:


Welcome Wagon!
Ready for Our Vineyard Tour - Is it Colder Than Serbia?
The Only Trejadura & Godello Vineyards in California!
The Team Posing on a Metate
Metate Group Selfie
Master Somm Masters The Grill
Just One of Many Amazing Pairings with Our Rib Eyes
Hat's Off to the Chefs!
Getting Better With Age!
Snow at Big Trees State Park