Blanc du Bois, a Southern Belle?
Sitting in a winery tasting room outside Fort Worth, Texas I perused the wine list. "What's this Blanc du Bois?," I asked. The name reminded me of Blanche DuBois from A Streetcar Named Desire.
"It's Blanc du Bois," she said helpfully.
"Is that a variety or just your name for the wine?" I persisted.
"It's a variety, a non-vinifera hybrid, created at a university in Florida and named after someone named Dubois," the server told me, realizing I had a thirst for information as well as wine. But I still couldn't get past Blanche DuBois, who Wikipedia describes as "a fading, but still-attractive, Southern belle whose pretensions to virtue and culture only thinly mask alcoholism and delusions of grandeur."
I tried the wine with trepidation. It was genuinely good—no delusions of grandeur and certainly not alcoholic. Wine Grapes, the authoritative (and weighty) tome by Robinson, Harding and Vouillamoz, tells us Blanc du Bois was designed in the 1960′s to produce high-quality wines in the difficult growing conditions of the southern United States and to resist Pierce's disease. It's a hybrid of four vitis species—one of which actually isvinifera—with a character that ranges from Muscat-like to Sauvignon Blanc-ish. It's namesake, Emile Dubois, was a 19th century Florida winegrower.
Lost Oak Winery makes four wines from the grape. I tried three, each good and very different from the others. The "Dry" is un-oaked, crisp and citrus-driven with grapefruit, pineapple, lemon lime, white flowers and just 11.36% alcohol. The Dry Haak Vineyard-designate Blanc du Bois is softer and less pungent on the nose with delicate grapefruit and flowers. The palate is a generous medium in body with grapefruit and mineral. Lost Oak's Blanc du Bois made in "blonde Madeira" style is a very pretty, even delicate, fortified wine with aromas and flavors of orange, vanilla, sweet spice, caramel and sandalwood. I liked it enough to buy a bottle at $41.95.

Have you had any wines from hybrid grapes that you have enjoyed?

Have you ever been surprised by good quality wines from states, regions or countries that were not on your radar?

Explore key grape varieties that are grown in many different regions of the world through our Wine Grapes of the World Series.
Check out our full schedule of programs, workshops and public events. Private, customized experiences and corporate training is also available.
---
Also in Blog
Master Sommelier and founder of San Francisco Wine School David Glancy lives and breathes wine and has taught blind tasting for 20 years. He weighed in on just how accurate Apple TV's Drops of Gold Series really is. You may be surprised.
Roberto's lifetime of experience has captured the notice of many critics and fans alike. In 2006, the Italian Sommelier Association declared Roberto the "best Italian winemaker." In 2009, 'Wine & Spirits' magazine declared Roberto's winemaking project in Argentina the "best winery in the world". In 2013, 'Wine & Spirits' similarly declared their Malbec the "best Malbec in the world."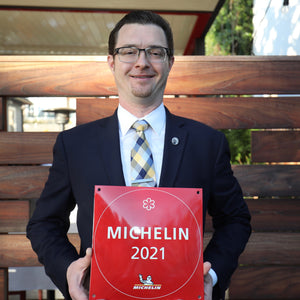 Paul Carayas is a Certified Sommelier and currently leading the wine Team at Chez TJ in Mountain View and a 2022 competitor in San Francisco Wine School's 2022 Somm Olympics, part of their annual Anniversary Celebration benefitting the Glancy Wine Education Foundation.